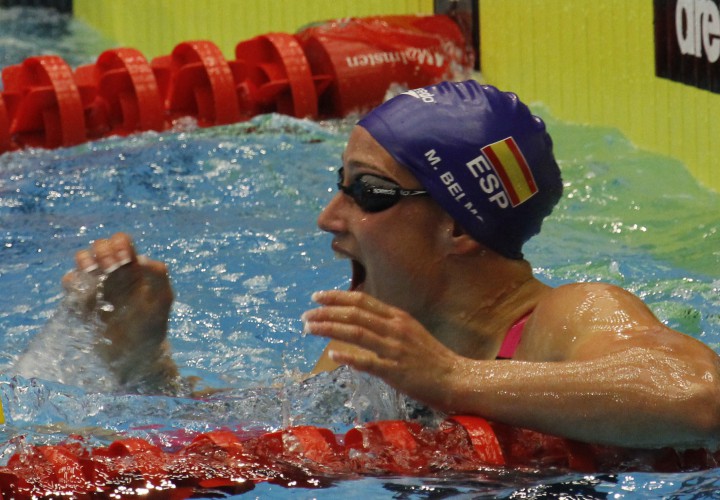 DOHA – Spain's Mireia Belmonte Garcia led a women's world record wipeout at the FINA World Short Course Championships in Doha, Qatar on night one as all three women's finals featured a world record.  Belmonte Garcia took the 200 fly and 400 IM to new stratospheres, while The Netherlands obliterated the women's 800 free relay global standard.
Live Streaming
This stream is a broadcast-rights legal way to watch the FINA World Short Course Championships. Swimming World does not support content theft by linking to or embedding pirated videos via YouTube or any other source.
FINA LIVE STREAM Subject to geoblocking
Scheduled Events
Men's 200 free finals
Women's 50 breast semis
Men's 100 back semis
Women's 200 fly finals
Men's 100 breast semis
Women's 100 back semis
Men's 100 fly semis
Women's 400 IM finals
Men's 400 free relay finals
Women's 400 free relay finals
Twitter Coverage
For up to the minute coverage, follow us on Twitter @SwimmingWorld:
FINALS
Men's 200 free
Although Serbia's Velimir Stjepanovic certainly set the pace with a sizzling 49.01 at the 100-meter split, South Africa's Chad le Clos kept calm and overhauled the field by the end of the race with a 1:41.45 for the victory.
Le Clos won this event all 27 times he competed in it in the FINA World Cup this year, and still hasn't lost a short course 200 free with his win.  He joins Ryk Neethling as the only South Africans to win this event as Neethling won in 2006.
Le Clos' time also stands as the top time this year, besting the 1:41.48 set by Russia's Danila Izotov at the Russian Championships in Kazan.
That's Le Clos' third world title at the short course championships, having previously won the 200 fly in 2010 and the 100 fly in 2012.
Izotov, meanwhile, raced his way to a 1:41.67 for second tonight.  That's his second medal in the event as he took silver in the 200 free behind Ryan Lochte in 2010, 1:41.08 to 1:41.70.
Lochte claimed his fourth 200 free short course medal with a bronze-winning time of 1:42.09.  He had won the previous two meetings in 2010 and 2012, and also took bronze behind Michael Phelps and Rick Say in 2004.
Hungary's Dominik Kozma (1:42.25), Hungary's Peter Bernek (1:42.44), Stjepanovic (1:42.48), Australia's Daniel Smith (1:42.81) and Venezuela's Cristian Quintero (1:43.45) also competed this evening.
[table "" not found /]
Women's 200 fly
Spain's Mireira Belmonte Garcia pulled off the first upset as she overtook defending champion Katinka Hosszu down the stretch to win the women's 200-meter fly.
Not only did she wind up beating Hosszu by more than a second, she also became the first woman under 2:00 in history with a barrier-breaking world record of 1:59.61.
That swim cut more than a second off Liu Zige's world record of 2:00.78 set in Berlin on the 2009 FINA World Cup tour.
With the win, Belmonte Garcia reclaimed her world title from 2010 after not medaling in 2012.
Hosszu, who went out a full second under world-record pace at the 100 with a 57.39, began to falter on the back half as Belmonte Garcia outsplit her the rest of the way, including a huge final split difference of 30.65 to 32.72.  Hosszu settled for silver with a 2:01.12, also under her previous meet record of 2:02.20 from 2012.
Germany's Franziska Hentke wound up taking third in the historic finale with a 2:03.89.
China's Zhang Yufei (2:04.91), Italy's Alessia Polieri (2:05.52), USA's Cammile Adams (2:06.35), Australia's Brianna Throssell (2:06.40) and Japan's Miyu Nakano (2:06.45) rounded out the finale.
[table "" not found /]
Women's 400 IM
The early swimmer of the meet already looks to be Spain's Mireia Belmonte Garcia after her second world record in two tries at the the FINA World Short Course Championships.
Belmonte Garcia overhauled Hungary's Katinka Hosszu once again, blasting a 4:19.86 for her second victory of the night by way of a world record.  That time crushed Hosszu's world record of 4:20.85 from 2013 as well as her meet mark of 4:21.05 from this morning.
Belmonte Garcia now owns four short course world records with top times in the 400 free, 800 free, 200 fly and 400 IM.  Hosszu now drops to two global marks with the 100 and 200 IM still on her resume.
Belmonte Garcia is the second woman to win a pair of gold medals in the 400 IM in a career as she also topped the 2010 edition. Yana Klochkova holds three wins from 1999, 2000 and 2002.
Hosszu picked up her second silver of the night, as she still has a potential eight more finals to come after scheduling 10 events this week.  Depending on how the rest of the week goes, there will likely be questions regarding over-scheduling.
Great Britain's Hannah Miley, the reigning champion, took bronze in 4:24.74, while USA's Elizabeth Beisel placed fourth in 4:25.56.
Japan's Miho Takahashi (4:27.61), USA's Caitlin Leverenz (4:28.74), Czech Republic's Barbora Zavadova (4:30.95) and Japan's Sakiko Shimizu (4:32.92) also swam in the finale.
[table "" not found /]
Men's 400 free relay
France reclaimed its 2010 world title with a meet-record performance in the men's 400-meter free relay.
France's Clement Mignon (47.05), Fabien Gilot (46.13), Florent Manaudou (44.80) and Mehdy Metella (45.80) raced their way to a 3:03.78 for the win.  That swim just missed the world record set by the U.S. in 2009 of 3:03.30, but cut a second from France's meet mark of 3:04.78 from 2010.
Manaudou and Metella were the key legs as France loaded the back end of their relay to overtake early leader Russia.
Russia's Vlad Morozov opened up with a meet record of 45.51 in the 100-meter free as Sergei Fesikov (46.01), Danila Izotov (45.79) and Mikhail Polishchuk (46.87) closed out a second-place 3:04.18.  That's Russia's third straight silver medal with finishes behind France (2010) and USA (2012) that previous two editions.
Team USA's Jimmy Feigen (47.41), Matt Grevers (46.13), Ryan Lochte (46.02) and Tom Shields (46.02) claimed bronze in 3:05.58 to keep their podium streak in tact.
Lochte won his fourth medal in the 400 free relay with two golds and two bronzes. That's second with Stefan Nystrand of Sweden, who has a gold, two silvers and a bronze.  Lars Frolander of Sweden has the overall mark with six relay medals including a gold, three silvers and two bronzes.
Italy (3:05.79), Australia (3:06.48), Belgium (3:07.54), Japan (3:07.79) and Brazil (3:08.31) also competed in the finale.
Women's 800 free relay
The women came to swim tonight at the FINA World Short Course Championships as all three women's finals featured a world record.
The Netherlands' Inge Dekker (1:54.73), Femke Heemskerk (1:51.22), Ranomi Kromowidjojo (1:54.17) and Sharon van Rouwendaal (1:52.73) posted a 7:32.85 and demolished the world and meet record of 7:35.94 set by China in 2010.
The world record splits had been Chen Qian (1:54.73), Tang Yi (1:53.54), Liu Jing (1:53.59) and Zhu Qianwei (1:54.08).
Although Dekker, Heemskerk and Kromowidjojo were expected to do well, van Rouwendaal proved to be one of the most versatile swimmers on the planet.  The 2014 Swimming World Open Water Swimmer of the Year outsplit everyone but Heemskerk on the world record relay.  This must have felt like taking a bath considering she's used to 10K events.
This is The Netherlands second win in the event, as a nearly identical foursome of Dekker, Heemskerk, Marleen Veldhuis and Kromowidjojo won in 2008 with a then world-record 7:38.90.
China's Qiu Yuhan (1:53.26), Cao Yue (1:54.48), Guo Junjun (1:55.14), Shen Duo (1:54.14) took silver in 7:37.02 with Australia's Leah Neale (1:54.15), Madi Wilson (1:54.37), Brianna Throssell (1:56.80) and Kylie Palmer (1:53.27) finishing third in 7:38.59.
Hungary (7:39.21), USA (7:39.48), Japan (7:42.65), Sweden (7:43.44) and Russia (7:44.04) finished fourth through eighth.
SEMIFINALS
Women's 50 breast
Lithuania's Ruta Meilutyte missed setting the world record in the women's 50-meter breast by the slimmest of margins at the FINA World Short Course Championships.
Meilutyte smashed her meet record of 29.44 from 2012 with a 28.81 for the top time in semis.  That swim just missed Jessica Hardy's world record of 28.80, and certainly put it on notice for finals tomorrow.
Jamaica's Alia Atkinson also could be in the running for the world record after popping a 28.99 for the second seed.  That's just off her top time of 28.94 from last year's FINA World Cup, and could put her in striking distance of Hardy's global mark.
The Netherlands' Moniek Nijhuis hit the wall in 29.69 for third, while Australia's Leiston Pickett took fourth in 29.79. as the only other 29-second performer.
Sweden's Jennie Johansson (30.08), Australia's Sally Hunter (30.08), Russia's Valentina Artemyeva (30.31) and USA's Emma Reaney (30.32) also made the finale.
Men's 100 back
Australia's Mitch Larkin put up the only sub-50 of the night with a 49.62 to lead semifinals.  That swim is only half-a-second off Larkin's world-leading 49.25 from the Australian Short Course Championships, and he is the only man under 50 seconds so far this year.
Brazil's Guilherme Guido put up a second-seeded time of 50.12 to move to third in the world, while Japan's Ryosuke Irie threw down a 50.16 for third.  USA's Matt Grevers, who had lead prelims with a 50.19, took fourth in 50.26.
Germany's Christian Diener (50.32), USA's Eugene Godsoe (50.42), Poland's Radoslaw Kawecki (50.54) and France's Ben Stasiulis (50.68) picked up spots in finals.
Russia's Stanislav Donets, the meet-record holder with a 48.95 from 2010, missed finals with a ninth-seeded 50.69.
[table "" not found /]
Men's 100 breast
Great Britain's Adam Peaty, who took the breaststroke by storm this summer with wins in the Commonwealth Games and European Championships, took down the meet record in the 100-meter short course event with a 56.43.
Peaty's swim undercut Cameron van der Burgh's 2010 record of 56.80 set in Dubai, and moved him to second in the world this year behind Felipe Silva's 56.25 from the Jose Finkel Trophy meet. That's also a Commonwealth record for Peaty.
Russia's Kirill Prigoda also broke 57 seconds for the first time this year with a 56.93 for the second seed, now fourth in the world behind Daniel Gyurta's 56.87, while Japan's Yasuhiro Koseki placed third in semis with a 57.06.
Slovenia's Damir Dugonjic (57.09), van der Burgh (57.18), Silva (57.21), France's Giacomo Perez-Dortona (57.24) and USA's Cody Miller (57.28) closed out the rest of the final field.
[table "" not found /]
Women's 100 back
Ukraine's Daryna Zevina threw down a 56.23 to lead the women's 100-meter back semis at Worlds.
Zevina's time moved her up to third in the world behind Katinka Hosszu (55.34) and Emily Seebohm (55.47). Zevina, who won the 200 back world title in 2012, is looking to add a 100 back medal to her resume.
Seebohm, meanwhile, checked in with a second-seeded time of 56.32, while Hosszu grabbed the third seed in 56.65.
Hosszu is entered in 10 events, hoping to finish with at least a record-tying six golds.  She missed out on her first gold with her loss to Mireia Belmonte Garcia earlier in the 200 fly.  But, she bounced back to make the 100 back finale.
Great Britain's Georgia Davies (56.82), Denmark's Mie Nielsen (56.87), Australia's Madi Wilson (56.91), Brazil's Etiene Medeiros (57.13) and USA's Kathleen Baker (57.25) will also vie for the world title.
[table "" not found /]
Men's 100 fly
Chad le Clos, the defending champion in the event with a 48.82 meet record in 2012, put up the top time in semis with a time of 49.25.  He's been much faster this year with a top-ranked 48.56 on the FINA World Cup circuit, and should challenge his world record of 48.48 in finals.
Australia's Tommaso D'Orsogna tracked down the second seed in 49.69 to move to fourth in the world, while USA's Tom Shields picked up the third seed in 49.91 as the only other sub-50 of the night.
Brazil's Marcos Macedo (50.03), Japan's Kosuke Hagino (50.07), USA's Ryan Lochte (50.09), Belarus' Yauhen Tsurkin (50.14) and Russia's Evgeny Korotyshkin (50.26) all made the final field as well.
The 2012 podium is still in tact with Gold (Le Clos), Silver (Shields) and Bronze (Lochte) all still in play for the finale.
[table "" not found /]