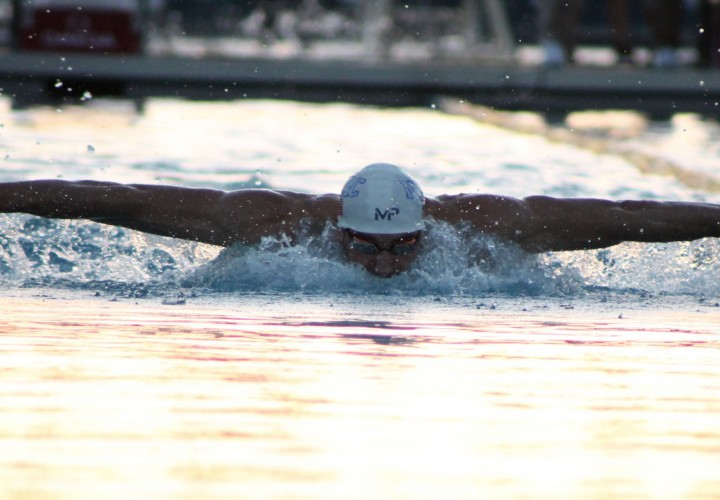 Photo Courtesy: Kara Sekenski
Editorial content for the 2015 Arena Pro Swim Series Santa Clara is sponsored by Arena. For full Swimming World coverage, check out our coverage page.
Michael Phelps didn't have many wins in his two competitions so far in 2015, notably coming up empty in Charlotte last month. The Olympic living legend isn't winning everything in his daily workouts in Baltimore, thanks to the return of Chase Kalisz.
Since returning to Baltimore from the University of Georgia about a month ago, Kalisz has frequently outlasted Phelps in many sets. At a press conference before the start of the Arena Pro Swim Series in Santa Clara, Phelps talked about a particular butterfly set in which Kalisz took down the 100 and 200 butterfly world record holder. Coach Bob Bowman gave his athletes five 150-meter butterfly swims, a set that Phelps was not quick to accept.
"I don't think I've ever done 5×150 butterfly in workout," Phelps said. "Ever. I don't know if I was afraid to do it, but I was skeptical about it because I didn't know if I wanted to do it. If I want to do some of the goals that I have, then I have to put myself through this."
Kalisz put Phelps through the ringer on that set, which didn't sit well with the man who hates to lose.
"(The butterfly set) was hard, and it was hard to get beat in workout," Phelps said. "Having Chase back from school has been good for me in workout. I always look at him as a younger brother, and I don't like when my younger brother beats me in workout."
Bowman said giving Phelps sets such as 5×150 butterfly was designed to get Phelps and the rest of the elite team at the North Baltimore Aquatic Club out of their comfort zones.
"We're in the part (of the season) that's serious," Bowman said. "You either step up and face the heat and keep going, or not step up and not face the heat and not keep going. My toughest challenge is to remind (Phelps) of the things that it took to get where he was, and he's been pretty willing to do it."
As he prepares to race in Santa Clara this weekend, Phelps said the challenges he's faced in workout are motivating him to race tougher against such talents as Conor Dwyer, Thiago Pereira, Nathan Adrian and others.
"Having (competition at practice daily) is helping me prepare for a meet and stand behind the blocks and feel confident," Phelps said. "I'm sick and tired of getting whooped."
Michael Phelps and Bob Bowman press conference at Arena Pro Swim Series – Santa Clara