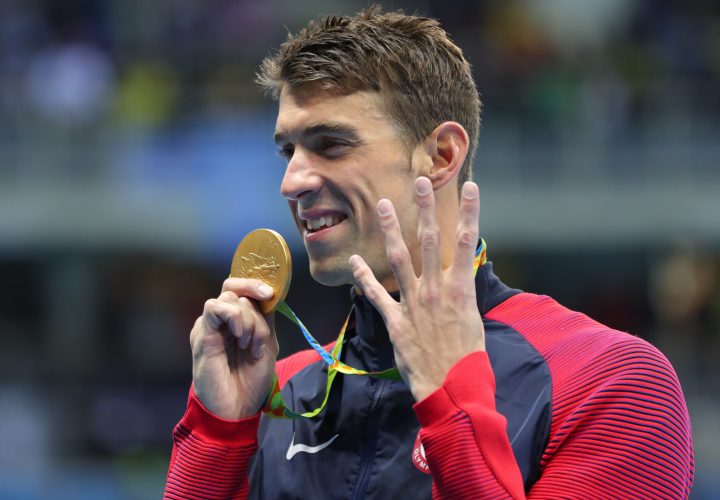 Photo Courtesy: Rob Schumacher-USA TODAY Sports
Michael Phelps is the most decorated swimmer in the sport's history and has more Olympic medals than any human in history with 28, ahead of Soviet gymnast Larisa Latynina who has 18 across three Olympics from 1956-1964.
Although what Phelps has done was unprecedented, he wants kids to believe that they are fully capable of achieving what he achieved.
"A lot of people thought that what I did was impossible," Phelps told The National, a newspaper based in the United Arab Emirates.
"If there is a kid out there who is truly willing to dream, dream as big as he can that he will literally shock himself, then anything is possible."
Phelps was in Dubai for the opening of the Under Armour Store in Dubai Mall on Monday.
"Records are made to be broken and I truly wish there is a little boy or girl out there who wants to do it and believes they can," Phelps said.
Phelps didn't mention anyone specifically by name if they could potentially match his 28 Olympic medals. Ryan Lochte, Natalie Coughlin, Dara Torres and Jenny Thompson have the most medals by swimmers after Phelps with 12. It took 32 years between Mark Spitz' last Olympic medal and Phelps' first, so it could potentially take that long or longer before we see someone seriously challenge Phelps' medal count.
But Phelps wanted to ensure that it isn't impossible.
Phelps also talked about doping in sport and how he hopes greater curbs can be placed.
"For me, the one frustrating thing I see in my sport, swimming, is some people who feel that they deserve to be given something, rather than working for it," he said.
"That frustrates me, because I know how hard it is to get to the top."
This is not the first time Phelps has spoken out about doping in swimming, although he did not mention swimming specifically when he was in Dubai.
"I hope in sports in the coming years we will get people who do emerge. There has to be people out there who are hungry enough, and hopefully they are doing it the right way.
"We can talk about doping. That is something that has to change. For sports to really grow and change, for me, I would really like to see federations step up and police certain things, so we are competing on a level playing field."
To read the original report from The National, click here.