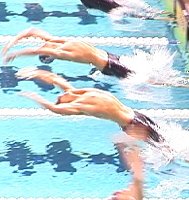 By Kari Lydersen
Photos by Michael Collins
World record-holder Lenny Krayzelburg held off a challenge by 17-year-old Aaron Peirsol to win the 200 back in 1:57.31, breaking the 1:57.93 Olympic Trials record Peirsol had set in the semi-finals. Krayzelburg's world record of 1:55.87 was set last August.
Peirsol was out fast in 56.92 to Krayzelburg's 56.57, and at the 150 Peirsol was only .26 behind the world record holder. But both tired at the end, with Peirsol finishing in 1:57.99.
Peirsol's coach, Dave Salo, also coaches Amanda Beard, who took second in the 200 breast right before Peirsol's swim. Krayzelburg, 24, swims for Trojan and won the 100 back earlier in the meet.
Brian Walters was third in 1:59.58, Marc Lindsay fourth in 2:00.27, Tate Blahnik fifth in 2:00.62.
Brad Bridgewater, the 1996 Olympic gold medalist in this event, was sixth in 2:00.67. Joey Faltraco seventh in 2:01.79 and Daniel Shevchik eighth in 2:02.82.
For live results feeds check the OMEGA TIMING site
Full results and schedule of events are available from US Swimming site