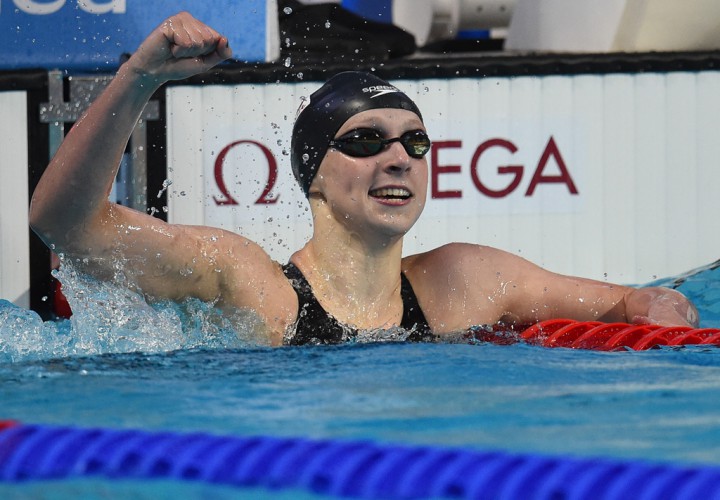 Photo Courtesy: R-Sport / MIA Rossiya Segodnya
Coverage of the 2015 FINA World Championships is sponsored by Wylas Timing. Visit our coverage page for more.
On the eighth day of the eighth month of the year, Katie Ledecky stepped up for the final of the 800 freestyle at the FINA world championships. And it would have been her grandfather's 88th birthday today. As if to say that lucky numbers or superstition had nothing to do with the swim, Ledecky decided to not post an 8:08 for her final swim of the meet, resetting her world record with an 8:07.39.
"We (my family) don't really talk about times, but they were talking about (going an 8:08)," she said. "I didn't really have any pressure. I didn't feel like I needed to do that, but I thought that would be really cool if (the time) was 8:08."
Listen To Interview On Swimming World Radio

The emotion Ledecky showed at the end of the race – slapping her arm on the water and letting out a brief yell – came mostly from seeing the result, but also from the relief of being done with one of the toughest race schedules any swimmer could imagine. With prelims and finals, Ledecky raced 6,200 meters in the Kazan Arena.
"I just couldn't be happier with how that swim went, or how this whole week went," she said.
It might be unfathomable for even the most seasoned swimming fan to see "8:07" as the winning time for a women's 800 freestyle, but for Ledecky, it's another step she's taking toward much larger goals, many of which are set for the Olympic Games.
"It's all about moving forward," she said. "After Barcelona (at the 2013 world championships), I set my goals for these last couple of years. I have a little bit of a way to go. I'm still chipping away at those goals. This was a really great stepping stone toward Olympic Trials."