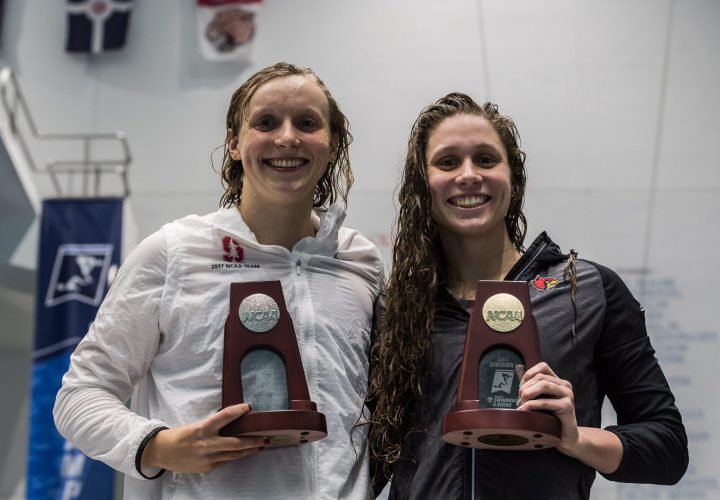 Photo Courtesy: Peter H. Bick
Editorial content for the 2018 NCAA DI Championship coverage is sponsored by TritonWear. Visit TritonWear.com for more information on our sponsor. For full Swimming World coverage, check event coverage page.
By David Rieder.
Last season, when Katie Ledecky took down the American record in the 400-yard IM at the Pac-12 championships, it was a precursor to… well, nothing. She skipped the event at the NCAA championships, and the IM was still off her schedule come long course season and the World Championships.
Over the weekend, Ledecky again broke the American record in the 400 IM, taking the mark back from Stanford teammate Ella Eastin—and this year, she will swim it at NCAAs.
That means no 200 free next month in Columbus, Ohio—and no rematch with Mallory Comerford.
In the most stunning performance of the 2017 NCAA meet, Comerford stayed close to Ledecky and fellow Olympic gold medalist Simone Manuel and then attacked the superstar duo on the last 50, hitting the wall at the exact same time as Ledecky: 1:40.37.
This was before Comerford had established herself as one of the country's best freestylers, winning the 100 free in long course at U.S. Nationals, qualifying for the World Championships and then winning five relay gold medals in Budapest. Last March, she was very much an underdog.
This year, the 200 free between Ledecky, Comerford and Manuel would have been the most anticipated race of the meet. All three have the capability to challenge the 1:40 barrier and possibly even Missy Franklin's American and NCAA record of 1:39.10. Not that Comerford vs. Manuel won't be a good race but being without the best swimmer in the world does take away some of the luster.
But why? Why move Ledecky from the 200 free to the 400 IM? Sure, the IM might be a safer bet for her to touch first, but if Ledecky wasn't in the 400 IM, Eastin would be the big favorite to win a third-straight NCAA title.
Here's what Stanford head coach Greg Meehan had to say in an email to Swimming World:
"For everyone on our team, and Katie is no different, each event decision is made within a much larger perspective, with the ultimate goal of maximizing our team point production.  It's not just about that specific event—it's about that event and how it potentially impacts other individual events (and relay events).

"Much the same as to how we make relay decisions for prelims and finals – there is always a greater impact to consider. Our team this year is incredibly versatile, and it's given us the opportunity to look at different options to score points.

"We put our NCAA plan in place first and then we worked backwards to decide Pac-12 events. In some cases that meant not racing an event they would ultimately race in Columbus."
Probably the most interesting piece here is that Meehan knew prior to Pac-12s what Ledecky's event plan would be going forward to NCAAs. Whether she broke the American record or not—heck, whether she won or not—had no bearing.
Beyond that, it's about point maximization, and that's the goal for any team at a college championship meet. But in that light, it would make more sense to put Ledecky in the event where Stanford has less depth—which is the 200 free, not the 400 IM.
Behind Ledecky and Eastin (seeded second) in the 400 IM, Stanford has Brooke Forde seeded fourth, Allie Szekely 12th and Leah Stevens 20th. Ledecky being in that race pushes each of them down a slot. In comparison, Katie Drabot (seeded 11th) is the only other Cardinal swimmer aside from Manuel with a realistic shot at points in the 200 free.
Of course, Meehan surely has a logic behind this event decision, and perhaps that will play itself out in Columbus. Still, after last year's 200 free epic, it's fair to be a little bummed that the trio of Ledecky, Comerford and Manuel won't match up in the 200 free this time around.