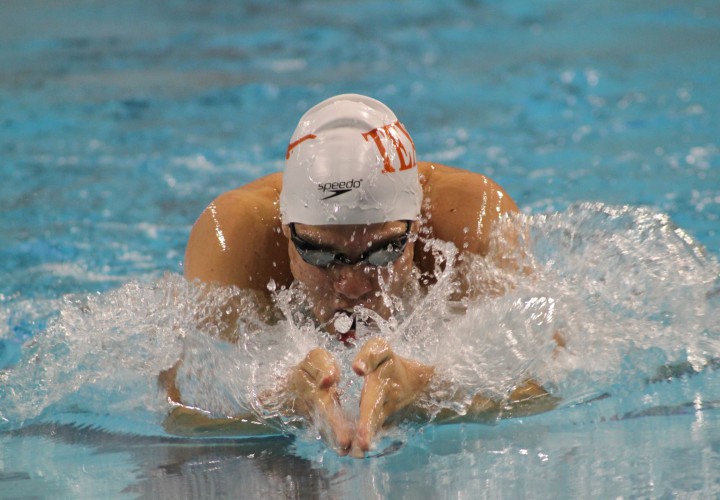 Photo Courtesy: Andy Ringgold/Aringo
By Wayne Goldsmith
How many articles, blog posts, magazine features and text books have you read about swimming workouts?
How many web articles have you seen that start with something like "The 10 best speed workouts" or "The best ever distance workout" or "The only three breaststroke drills you'll even need?"
20 articles?? 50 articles? 10,000 articles? More?
There are literally thousands – or maybe even tens of thousands of pages, posts and podcasts about the "best" the "perfect" or the "ultimate" workout" for swimming.
Everyone's so caught up with the "what" of swimming workouts when the "what" matters a whole lot less than you might realise.
Here's an article that's the exact opposite of everything you've ever read about swimming workouts….here is The World's Dumbest Swimming Workout (and how the world's smartest swimmers would do it).
The World's Dumbest Swimming Workout
Here it is – the world's dumbest swimming workout – 240 x 25 yards (or metres)
And Now…How the World's Smartest Swimmers Would do the World's Dumbest Swimming Workout: Cooks and Chefs.
There are two basic types of swimmers – cooks and chefs.
A "cook" is someone who can read a recipe book, follow the recipe and make the cake or the pie or the dish as per the recipe instructions. Cooks see cooking as a job – as a task to be completed by necessity – as something they have to do.
A "chef" is someone who understands cooking and the art of meal preparation. They will also follow the recipe but with their superior training, high level skills and great understanding of what it takes to make outstanding meals – the dishes they prepare by following the same recipe will be significantly different to those produced by the "cook".
Chefs consider cooking an art form – it's their passion – it's something they've deliberately and consciously pursued as their choice of career and their lifestyle.
Think about that for a moment.
Two people. Using the same recipe…the same raw ingredients…the same cooking utensils…the same kitchen appliances…producing very, very different quality dishes.
What's this got to do with swimming workouts?
Win the Workout: Cooks and Chefs.
The "Cook" when presented with the world's dumbest swimming workout would swim 240 x 25, count every lap, follow the coach's instructions to the letter and, at the end of the workout, they would have swum 6000 yards (or metres).
The "Chef" when presented with the world's dumbest swimming workout would….
Choose not to breathe on the first three or last three strokes in free and fly;
Choose to touch the wall with two hands firmly and aggressively in fly and breast;
Choose to swim with an even, controlled pace and relaxed stroke;
Choose to breathe every two or three strokes in fly;
Choose to streamline in perfect position off every wall until their feet were well past the backstroke flags;
Choose to attack their turns at race pace;
Choose to finish every repeat with breathing control and with excellent technique;
Choose to re-hydrate regularly throughout the workout;
Choose focus on excellence in stroke technique in every stroke;
Choose to complete a perfect underwater pull-out stroke in breaststroke off every wall;
Choose to explode to the surface with a powerful breakout off every start and turn;
Choose to start every free, fly and backstroke lap with fast, dynamic underwater kicking in a perfect streamline;
Choose to finish on the wall in backstroke on their back and with a powerful lunge at the wall;
Choose to finish every free lap with their eyes, head and body in the perfect position and with their feet still driving;
Choose to challenge swimmers in the next lanes to little contests and competitions, e.g. who can take the least strokes on their next fly lap;
Choose to count strokes and think about distance per stroke – particularly as they start to fatigue.
The bottom line is…it is the choices that swimmers make during even the most dull, boring and mundane training activities that makes all the difference.
Every swimmer and every coach in the world has the same basic "recipe-book".
There's very little difference in workout designs, training set formulation and training program planning across the globe.
Everyone has the same basic "ingredients": a recipe book (the training program), cooking implements and appliances (training equipment) and a kitchen (a swimming pool).
It's easy for "cooks" to achieve a reasonable swimming performance result as there's so many "recipe-books" available for free or for little cost on the internet.
However, what the "recipe-books" don't tell you, is how to complete each and every workout in a way that makes swimming success inevitable.
Once a swimmer realises that so much of the success they crave comes down to the choices that they make – and the decisions that they take in every workout – every "cook" can become a "chef".
Summary
Workouts are not what matters: it's how you do the workouts that matters: cooks and chefs.
Smart swimmers know that regardless of what the coach writes on the board – it is their attitude, their commitment, their personal standards and their engagement with their training that makes all the difference.
The best swimmers are those who attack their training with purpose: their actions are deliberate and they maximise the benefit they gain from every workout by their relentless pursuit of excellence in all that they do.
Doing the workout – actually completing the distance of the training session is the minimum standard: aim to "win-the-workout" – i.e. set your own training standards and your personal performance level higher than anyone in your lane, your team, your state or even your nation….and you will achieve every swimming dream you've ever dreamed.
And…as always…don't count the laps – make every lap count.
Wayne Goldsmith