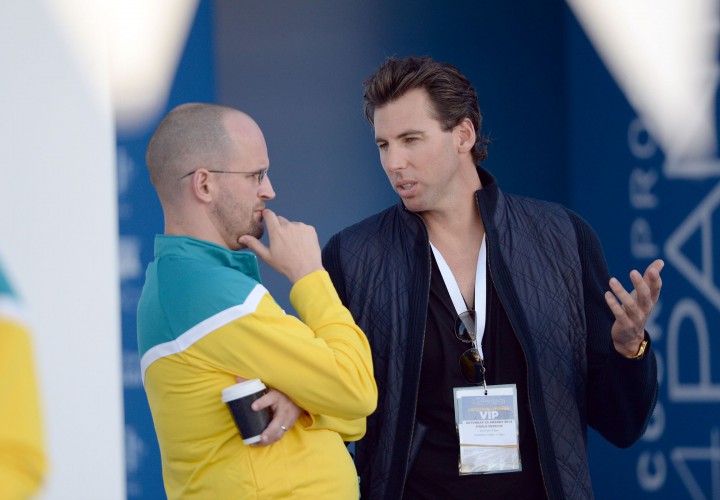 Photo by Delly Carr
MIAMI, Australia, September 22. GRANT Hackett is back in the pool with his former coach Denis Cotterell, sparking the same rumors of a comeback that followed Michael Phelps last year.
Hackett, the two-time Olympic champion in the 1500 freestyle, hasn't been in the water full-time since his retirement following the 2008 Olympics. According to an article in the Courier Mail, Hackett has returned to the pool in an attempt to "regain lost fitness." The article also states that Cotterell is hoping to have Hackett on a relay for the Miami Swimming Club at next spring's nationals, but the coach is not saying whether that will be a first step toward trying for an Olympic berth in 2016.
Hackett, now 34 years old, would face some very tough competition in the mid-distance and distance freestyles if he had designs on making an international competition squad for Australia. Thomas Fraser-Holmes, David McKeon, Jordan Harrison and Mack Horton are all steadily improving, and are approaching the times Hackett posted in his prime almost 10 years ago. Hackett still owns the Australian records in the 800 and 1500 freestyles.
Hackett was inducted into the International Swimming Hall of Fame last November, and was plagued by the admission of an addiction to sleeping pills during his professional career. Hackett went into treatment for the addiction, and speculation followed that he traveled to Los Angeles for extensive rehab last year. He was on deck at last month's Pan Pacific championships as a mentor to the current crop of distance aces.
Phelps' road to a comeback following his 2012 retirement started in the same fashion. He was photographed doing a leisurely workout with Bob Bowman and his North Baltimore Aquatic Club athletes about 15 months before his official return. At the time, everyone was cryptic about the meaning of the workout – and now Phelps is back into full-time competition mode.