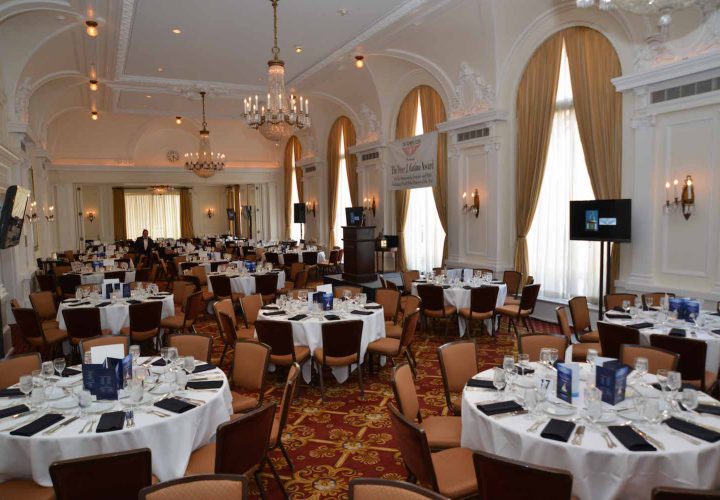 The Olympic Club, San Francisco. Photo Courtesy: Gary Crook
BY Michael Randazzo, Swimming World Contributor
In a nod to the necessity of the netminder, Princeton's Ashleigh Johnson and USC's McQuin Baron were recipients of the 2017 Peter J. Cutino Award Saturday night at The Olympic Club in San Francisco. Named for the deceased University of California Berkeley and The Olympic Club coach considered by many to be the greatest in U.S. water polo history, the Cutino Award is given annually to the top male and female collegiate water polo players in America.
Johnson, who backstopped the U.S Women's Senior National Team to gold at the 2016 Rio Olympics, was perhaps a surprise winner over finalists Maggie Steffens of Stanford and Rachel Fattal of UCLA. A two-time finalist for the Sullivan Award, given annually to the top amateur athlete in America, as well as the 2014, 2015 and 2016 Swimming World Female Water Polo Player of the year, Johnson is the first player from the East to ever win a Cutino.
Even though Johnson's team did not qualify for the 2017 NCAA Women's Water Polo Tournament,  the Miami, FL native clearly deserved recognition as the country's top player. During her senior season at Princeton, Johnson posted a 22-4 record, 300 saves and a .693 save percentage, leading the Tigers with 54 steals while adding 16 assists and four goals. She finished her career as Princeton's all-time leader in saves (1,362) while recording 100 career victories as a member of the most successful class in program history.
Steffens—an Olympic gold medalist and women's water polo MVP at the 2012 London and 2016 Rio Games—led Stanford to the NCAA title game all four of her years as a Cardinal and was a likely choice as the country's best female polo player. A four-time Cutino Award finalist, last month Steffens, from Danville, CA, scored the game-winning goal in the 2017 NCAA Championship with nine seconds remaining, giving Stanford it's third NCAA championship in four years.
Baron, a junior at USC, is also a noteworthy international performer, having seen significant playing time for the U.S Men's Senior National Team at Rio. A standout performer at USC the past three seasons, Baron beat out teammate Blake Edwards, 2016 Cutino winner Garrett Danner of UCLA and Ryder Roberts, also of UCLA.
The 2016 National Player of the Year, with 247 saves last season—sixth most in a single season by a Trojan—Baron moved into second place all-time at USC in career saves with 812, 38 behind by two-time Olympian and 2011 Cutino Award winner Joel Dennerley. USC's backbone on defense, Baron led the Trojans to a 24-2 record and the 2016 NCAA Men's Tournament Final. The  North Tustin, CA native turned away 19 Golden Bear shots as USC lost 11-8 in overtime to the University of California Berkeley.