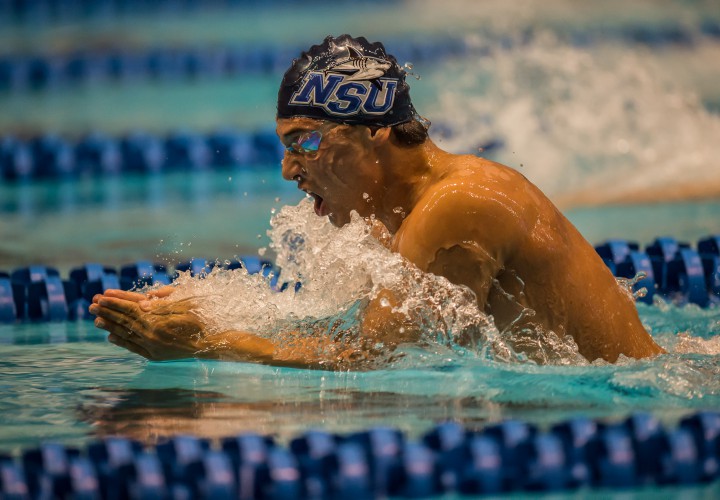 Photo Courtesy: Peter H. Bick
By Abby Boone, Swimming World College Intern
Nova Southeastern University (NSU) had a successful season, with the men finishing seventh and the women finishing fourth at the NCAA Division II Championships, but one swimmer stands out in the team's success.
Anton Lobanov came to NSU from Novosibirisk, Russia and set two Division II NCAA records in March. The swimming community took notice of his electric times.
Lobanov went 1:51.71 in the 200 breast and 51.63 in the 100 breast at NCAA DII nationals, finishing in times which are the eighth and sixth fastest times in history for the respective events. Anton was already a strong swimmer before coming to NSU this year, but the 22-year-old freshman has grown even faster over his first few months at the school.
Before they head to Russia for Lobanov to compete in the Russia's National Championships, NSU head coach Hollie Bonewit-Cron answered some questions about Lobanov's training and his transition into collegiate swimming.
What were Anton's strengths coming in and how did you refine those this year?
Anton came to us mid-year, but I was already well aware of his strengths from watching him swim and talking to his coach, Sergio Lopez, from Bolles (High School). Anton's main strengths in the water were his power off the walls and the kick phase of his stroke. Anton is keyed into his outgoing speed while continuing his press of the second half of the race.
Anton is also very strong in the weight room and during dryland, which further helped his strength in the water. His training has been a continuation of his commitment to details and the vast knowledge of where he needs to be. We have simply designed sets that help him refine his power and develop his endurance for the 200 breast while maintaining the speed for the 100 breast and his freestyle events.
What are his weak points and how have they improved?
We have worked with Anton on his underwater pullouts to reduce the drag coming off the walls and develop a stronger breakout for him. His lines have become cleaner and, as a result, he has been more explosive off of his walls.
We have also worked with him on his starts, both flat and relay. Anton's reaction time is becoming faster which facilitates his launch off the starting block. Anton's stroke mechanics were solid when he came to our program, but with each week, he becomes better at making the small adjustments to improve his overall performance.
What's one of Anton's favorite sprint sets?
Anton doesn't really have a favorite sprint set. Recently, however, he was doing a set of 50's pace and he asked to do one more…so that must have been his favorite set! In all honestly though, he prefers to work both the 200 and 100 equally and he gets a mix of both of those throughout the week. As we approach competitions, his speed work increases, of course, and he has the opportunity to work the front-end speed to supplement the endurance work that he has for the 200.
What type of set do you do to work on that second 100?
His sets are designed with repetitive pace to push the aerobic intensity. There is a combination of middle distance breaststroke swimming that focused on perfect technique mixed with shorter descends, working on tempo and speed.
Anton is aware of his training components as it relates to the proper splits, the changes he needs to make in tempo from the 100 to the 200, and the power needed the second 100. His sets focus on the combination of all of those elements.
What are your thoughts on breaststroke pulling (pull sets)?
I like having our breaststrokers isolate different parts of their stroke and with that comes the combination of kicking, swimming, and pulling. The sets incorporate a blend of specific focal points on each of the aforementioned components of the stroke.
I am also a proponent of resistance training and training aids to break down the physiological structure of the stroke for endurance as well as develop the intensity and speed.
Breaststroke is a power stroke. Had Anton lifted prior to this year?
Anton has been swimming a long time and has a lot of natural talent. He has been involved with structured strength training programs prior to his arrival to NSU.
He develops a lot of his power in breaststroke with his mechanical ability combined with strength training. He now continues this strong foundation in our program with a blend of weight lifting and dryland.
What might you change in training next year to improve upon Anton's stellar season?
I will look to build off what Anton has already accomplished and the underlying principles that make him as good as he is. I have discussed topics with him that are not solely swimming-related in order to understand his culture and his approach to training and competing. Anton and I have talked at length about where and how he can make changes.
In relation to his stroke specifically, we talk about his stroke mechanics. His training will evolve as well. The changes that I will make will center around how to make his other events stronger, in addition to breaststroke. Anton can sprint freestyle very well, but I feel he can improve even more. After Anton swims at his national meet in two weeks, I will put the final pieces on his training for next year.