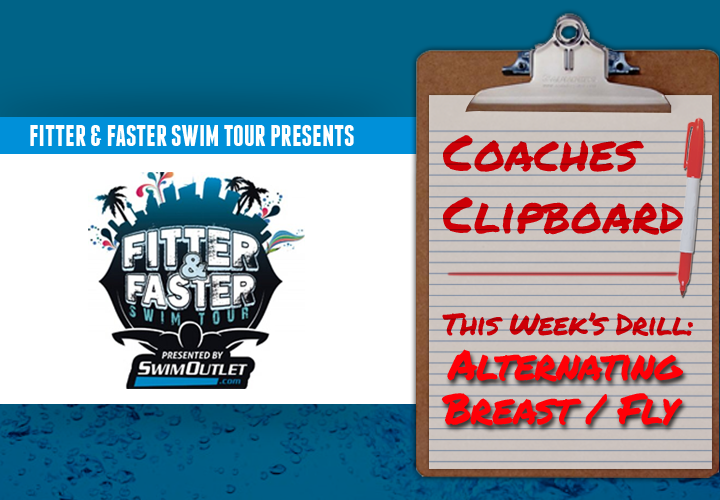 Welcome to the "Drill of the Week" sponsored by The Fitter and Faster Swim Tour presented by Swimoutlet.com. Swimming World will provide you with a weekly tip or drill from an elite level swimmer to make you a smarter and faster swimmer.
This week's drill is Alternating Fly/Breast Drill by 2012 Olympian Scott Weltz. Weltz explains that this drill "really helps you get your rhythm down." It helps you to achieve a cleaner, longer and smoother stroke when you race Breaststroke.
Alternating Fly/Breast Drill is exactly what it sounds like. The drill is executed by alternating one full stroke of butterfly, with one full stroke of breaststroke.  The goal is to try to get that undulating dolphin-like rhythm of breaststroke into your butterfly stroke. Since the drill is to be done slowly, Weltz likes to do Alternating Fly/Breast for 300-500 meters at a time in order to lock in his stroke before a race. Simply continue alternating one stroke of butterfly with one stroke of breaststroke, making sure that from shoulders to hips, your body position and movement is the same no matter if you're doing a breaststroke or butterfly stroke.
Doing Alternating Fly/Breast Drill will help you achieve the optimal body position for maximum forward movement on breaststroke. Getting your hips up high will help you have more forward momentum, and you will be able to hold your glide longer on each stroke.
Warm-up for your next breaststroke race or set with Alternating Fly/Breast Drill!
Sign up for a clinic with 2012 Olympian Scott Weltz.
February 20, 2016 – Cleveland OH
Championship Racing Skills for Starts, Turns and Underwater Dolphin Kicking
March 12, 13 2016 – East Hampton, NY
Championship Meet Preparation for Starts, Finishes and Breaststroke – East Hampton, NY
April 2-3 2016 – Omaha, NE
2016 US Swimming Trials Qualifiers Only
April 9, 10 2016 – Arlington, TX
Fast Breaststroke and Butterfly Skills – 11 and under
High Performance Starts, Turns and Underwater Dolphin Kicking – 12 and up
April 16, 17 2016 – Lawrenceville, GA
High Performance Starts, Turns and Underwater Dolphin Kicking – 13 and up
Faster Starts, Turns and Underwater Dolphin Kicking – 11 and 12
Performance Essentials for Faster Butterfly and Breaststroke Skills 9 and 10
April 30, May 1 2016 – Billings, MT
Powerful Breaststroke and Turns
June 28, 29 and July 1, 2 2016 – Clinics during Olympic Trials in Omaha, NE
Powerful Starts and Perfectly Timed Finishes
Explosive Turns and Underwater Dolphin Kicking
High Performance Freestyle Skills for 12 and Over
Fast Freestyle Skills for 11 & Under