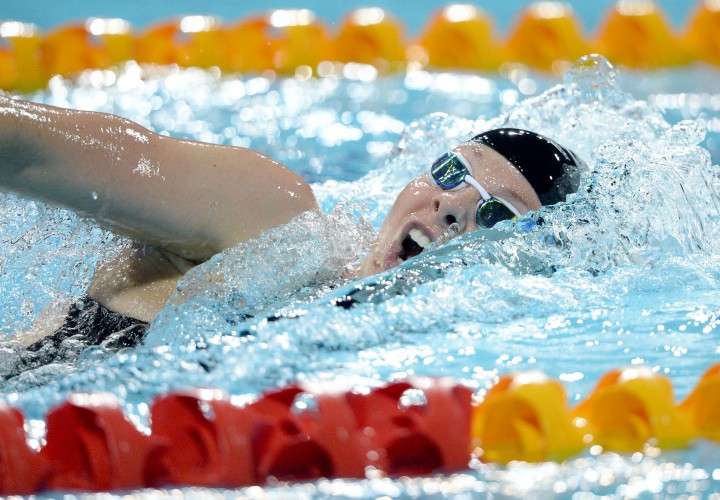 Photo Courtesy: Delly Carr
LAUSANNE, Switzerland, October 15. In what has been an arduous few months of backroom wrangling, Lauren Boyle's world record in the women's 1500-meter freestyle at the Wellington Winter Short Course Championships in New Zealand in August has been ratified with it no longer being listed as pending by FINA.  With the ratification, Boyle becomes the second New Zealand woman to ever set a global mark in short course events. Anna Simcic set the first one for NZL with a 2:07.11 in the 200-meter backstroke in 1992.
Boyle clocked a 15:22.68 in the event, crushing Mireia Belmonte Garcia's record of 15:26.95 set last November at the Spanish Short Course Championships.  The controversy came up with questions regarding the legitimacy of the Wellington pool with New Zealand watchdog David Wright filing an official protest on the pool prior to the meet.
Wright, who has often been a thorn in Swimming New Zealand's side with regular shots at the organization on his blog SwimWatch.net, claimed that the pool not only had a current, but also was too shallow in the shallow end (1.2m). FINA, however, requires a minimum depth of 1.35m per FINA Rule FR2.3.
Comparative Splits
Belmonte Garcia:
29.15, 1:00.47 (31.32), 1:32.28 (31.81), 2:03.99 (31.71), 2:35.44 (31.45), 3:06.66 (31.22), 3:37.85 (31.19), 4:09.11 (31.26), 4:40.32 (31.21) 5:11.55 (31.23), 5:42.61 (31.06),
6:13.67 (31.06), 6:44.72 (31.05), 7:15.66 (30.94), 7:46.60 (30.94), 8:17.40 (30.80), 8:48.37 (30.97), 9:19.07 (30.70), 9:50.12 (31.05), 10:21.32 (31.20), 10:52.53 (31.21), 11:23.12 (30.59), 11:53.82 (30.70), 12:24.62 (30.80), 12:55.33 (30.71), 13:25.72 (30.39), 13:56.30 (30.58), 14:26.86 (30.56), 14:57.51 (30.65), 15:26.95 (29.44)
Boyle:
28.46, 58.66 (30.20), 1:29.07 (30.41), 1:59.51 (30.44), 30.49 (2:30.00), 3:00.55 (30.55), 3:31.15 (30.60), 4:01.74 (30.59), 4:32.34 (30.60), 5:03.01 (30.67), 5:33.85 (30.84), 6:04.57 (30.72), 6:35.31 (30.74), 7:06.10 (30.79), 7:36.85 (30.75), 8:08.05 (31.20), 8:39.13 (31.08), 9:10.07 (30.94), 9:41.23 (31.16), 10:12.38 (31.15), 10:43.42 (31.04), 11:14.64 (31.22), 11:45.92 (31.28), 12:17.24 (31.32), 12:48.15 (30.91), 13:19.13 (30.98), 13:50.21 (31.08), 14:21.04 (30.83), 14:52.09 (31.05), 15:22.68 (30.59)