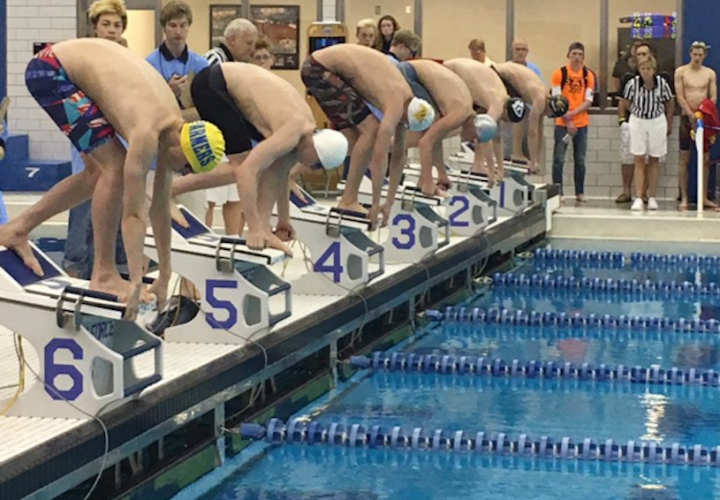 Photo Courtesy: Pine Creek HS Twitter (@PineCreekHS)
Agon is the proud sponsor of all high school coverage (recruiting, results, state championships, etc.) on SwimmingWorld.com. For more information about Agon, visit their website?AgonSwim.com.?National Records for High School Are Pending Application Verification.? Click Here to Learn More
Agon is the proud sponsor of all high school coverage (recruiting, results, state championships, etc.) on SwimmingWorld.com. For more information about Agon, visit their website AgonSwim.com.
Cheyenne Mountain won the Colorado 4A Boys High School swimming and diving state title on Saturday afternoon.
Cheyenne Mountain got out to an early lead, winning the 200 medley relay in 1:35.95 with the team of Jerry Birnbaum, Sheridan Harder, Westin Stieglitz, and Reece MacRenato. Golden's Daric Sundeen, Cory Leidich, Reade Warner, and Tate Warner were second (1:36.68), just ahead of Valor Christian's Dylan Nasser, Caleb Kim, Lenny Dan, and Kyle McCarty (1:36.94).
Thompson Valley's Liam Gately finished with a fairly solid lead in the 200 freestyle, turning in a 1:36.94. Kyle Leach of Cheyenne Mountain was second with a 1:38.34. Also under 1:40 was Evergreen's Seth Hendrix (1:39.84).
Gately also topped the 100 freestyle by over a second in 44.64. Pine Creek's Nicholas Sherman (45.66) and Air Academy's Griffin Ayotte (45.96) were second and third.
Leach later won the 100 butterfly in 49.23. Sundeen touched second (50.85) and Matthew Wyatt of Valor Christian placed third (52.43).
The top three in the 200 IM were close and well ahead of the rest of the field. Ultimately, Wheat Ridge's Ryan Peterson (1:53.01) got to the wall first. Nasser was just a tenth behind in 1:53.13. Blayze Jessen of Mullen (1:53.87) earned bronze.
Daniel Carr of Cheyenne Mountain won the 50 freestyle by a full second with his 20.45. George Washington's Cole Sibelius (21.55) placed second and Wyatt (21.84) was third.
Taking the title in the shortest and longest events on the high school schedule, Carr posted a 4:33.99 in the 500 freestyle. Montrose's Ryan King was just behind him in 4:35.69. Thompson Valley senior Christopher Eddy (4:41.86) completed the podium.
Estes Park's Jacob Bielamier dominated diving with 521.90 points.
Cheyenne Mountain also won the 200 freestyle relay with the quartet of Kyle Leach, MacRenato, Sheridan Harder, and Carr in 1:25.90. Valor Christian's Wyatt, Levi Gooden, Liam Dooley, and Kim were second (1:27.79) and Will Draper, Tristan Camp-Lagveux, Jordan Oss, and Sibelius were third for George Washington in 1:29.43.
Birnbaum topped the 100 backstroke with a 50.92. Just behind him were Sundeen (51.01) and Sherman (51.02).
Drake Manuello of Greenley Central out touched Jack Moranetz of D'Evelyn 57.80 to 57.89 for the 100 breaststroke title. Cheyenne Mountain sophomore Harder (58.61) finished third.
Cheyenne Mountain wrapped up the meet with a dominating performance in the 400 freestyle relay as the team of Leach, Birnbaum, Stieglitz, and Carr touched in 3:02.67, nearly ten seconds ahead of the field.
Cheyenne Mountain won the state title. Full team scores were not yet available.
Results available here.