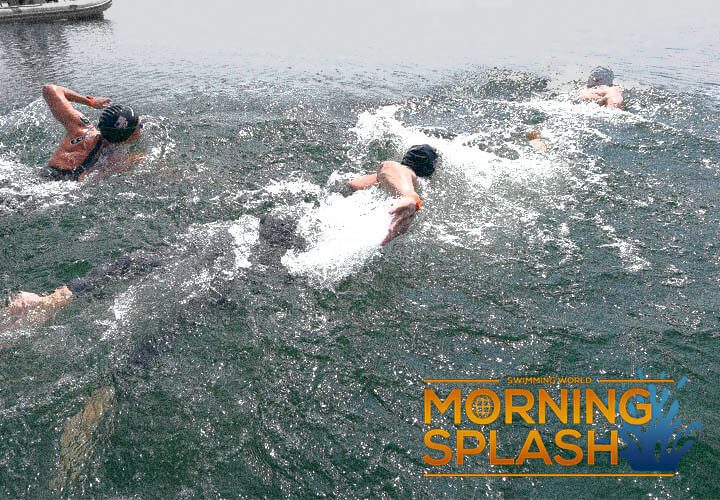 Photo Courtesy: Erich Schlegel/USA TODAY Sports
Morning Splash by David Rieder.
Competing among the elements always brings its set of challenges, and this week's U.S. Open Water National Championships at Castaic Lake, that test will be some unseasonably chilly water.
USA Swimming had picked the date and location for this year's World Championships selection event hoping for conditions similar conditions to what athletes will swim in in Budapest this July—specifically, water around 72-74 degrees Fahrenheit. But towards the end of April, National Team Open Water Program Director Bryce Elser realized the lake was not warming up as was expected.
"We hit the last week of April, and that's really when the red flags came up because it stayed below 60 degrees for longer than we would have liked to have happen," Elser said. "We noticed that we weren't going to hit that 72 mark, and we're going to be colder. Just with the amount of snow melt that's going on, we're not going to get the warm-up as much as we would like."
But open water swimmers prepare for conditions that fall under the category of less-than-ideal, as veteran open water coach and current Tennessee associate coach Tyler Fenwick explained.
"I can't say that we specifically prepare for cold water. What we prepare for at Tennessee is anything. We prepare for the unexpected, and we deal with it," Fenwick said.

"If it's going to be 90 degrees and sunny and the water temperature is going to be 80, we love that. If it's going to be pouring rain and the water temperature is going to be 62, we love that. We welcome that. The way that we train, we are prepared mentally and physically for anything that comes to us, and we are prepared to dominate."
But temperatures as low as the low-60s caused concern for USA Swimming. It was similarly extreme temperatures—hot, not cold—that led to the tragic death of Fran Crippen in an open water race in 2010.
Enter wetsuits. FINA instituted a rule earlier at the beginning of 2017 that would allow athletes the option to wear wetsuits if water temperature was below 20 degrees Celsius (68 degrees Fahrenheit), and wetsuits would be mandatory at all temperatures below 18 degrees Celsius (64.4 degrees Fahrenheit).
Less than two weeks before the event, USA Swimming officially adopted that rule and sent a memo to coaches and athletes informing them of the change. The reaction was decidedly mixed.
"Some of the coaches were happy about it because they were concerned about their athletes' well-being for a two-hour race and temperatures potentially below 68 degrees," Elser said. "But a lot of coaches are very hesitant about introducing such a new piece of equipment to the sport in such a short timeframe."
Catherine Vogt falls into that latter category of coaches. The associate head coach at USC who guided Haley Anderson to an Olympic silver medal in the 10k in 2012, Vogt hopes that Castaic Lake will heat up to the point where wetsuits would be superfluous.
"I think the water is probably going to end up being about 68 or 70, and I don't think we will be wearing wetsuits," she said. "That's kind of my hope. But if it's 67.9, it's up to the athlete, and I want my kids racing in something they're comfortable with."
With the temperature of the lake having spiked recently, it's unlikely that wetsuits will be made mandatory, but chances are strong that the water temperature on race day will leave the athletes with a decision to make.
Fenwick and his three swimmers scheduled to race, David Heron, Taylor Abbott and Sam Rice, check out the situation when they arrive in Southern California before deciding whether or not to go with wetsuits.
"I think we need to see the conditions," Fenwick said. "That's a big deal—this isn't a 100 free; this is a 10k. What suit do we feel like we can best perform a 10k in? Factor in how warm it's going to be outside that day. Right now, it's looking like 80s and sunny, and the race was moved to 11 a.m. for the men. So it's not like this is going to be as the sun's coming up in the morning."
Elser, in six years in his current position, cannot remember anyone complaining about 75-degree air and water with party cloudy skies, but those perfect conditions are far from the norm. That's the lesson that those new to open water swimming must figure out
"It's tough—we want to get kids into the sport, so we want to have race conditions that people are going to enjoy and have a great experience and want to come back and race again, but at the same time, there have been a lot of times where you don't always know the exact water temperature," Vogt said. "Relax and go with the flow, and if you've trained well and prepared well, have confidence in that."
But for all the elements could throw at the racers, Fenwick feels confident they won't see anything as crazy as what happened on a windy day in 2013, the last time the National Championships were hosted at Castaic Lake.
"The last time we were there the wind undid a buoy," he recalled. "That was a freak thing—that's something I could go my whole career and never see again."
All commentaries are the opinion of the author and do not necessarily reflect the views of Swimming World Magazine nor its staff.