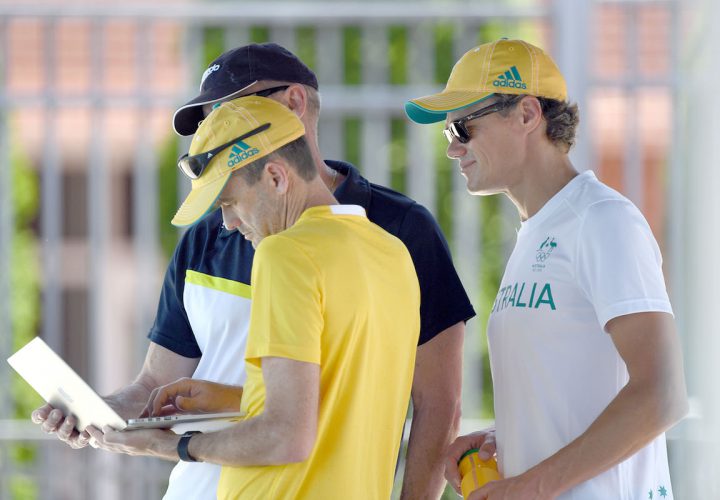 By Wayne Goldsmith.
The most important question any swimming coach seeking coaching success can ask, is "Why Do I Coach"?
When I work with swimming coaches around the world, I usually start my "coach-the-coaches" sessions with that question: Why Do You Coach?
Often the coach who I've asked this question to will respond, "Because I Love It".
That's a good answer. But it's not enough to help me or the coach understand what it is that's driving them – motivating them – inspiring them to coach.
So usually I'll ask a follow up "why" question….something like, "OK – So Why Do You Love Coaching?"
After three, four, five or even more of these "why" questions, sooner or later we get to a deeper understanding of the real reason why the coach has chosen to coach.
The exciting thing is, that from this point of understanding, the coach can relatively easily and simply develop their own Coaching Philosophy and from there…all the other things start to fall into place.
Coaching Success – It Begins and Ends with one simple question…why do you coach?
Most swimming coaches sooner or later figure out WHAT to do. That's the easy part.
Go do a Coaching course.
Attend a Coaching Conference.
Buy a few Coaching Biographies about famous coaches.,,,,the "what" of swimming coaching is relatively easy to learn.
Some coaches may even learn HOW to coach and develop an understanding of the subtleties of the art of coaching.
But to really "get" coaching, it is essential that you spend time and make the effort to understand WHY it is that you coach.
Understanding WHY you coach is not only at the very heart of your coaching, it is – in effect – your COACHING HEART! It's a revelation of the forces and factors that motivate you to get out there and do all you can to improve the lives of the athletes you coach.
Everything else – training programs, workout plans, training session structures….everything becomes relatively easy and straight forward once you've got an honest answer to the question…Why Do I Coach?
For example:
One of the most common questions I am asked by swimming coaches is "How Many Training Sessions Should My Swimmers Be Doing Each Week?"
If you're focused on the "what" of swimming coaching and you're overly obsessed on the sets, reps, drills, repeat times, skills practices of swimming, you'll start Googling "training sessions for swimmers" and "training volume for age group swimmers" and similar searches.
Then, as the Search results appear, you'll naturally look for the advice and ideas of the leading coaches and consider their ideas, views, thoughts and beliefs very closely.
Or you'll come across a You Tube presentation delivered by a famous swimming coach speaking at a Conference about their training programs, favourite workouts etc. and learn from them.
There is an endless supply of ideas and information about swimming training, workout design and program structure in the palm of your hand: anyone can get anything, anywhere, anytime and usually for free.
So the issue is not "How Many Training Sessions Should My Swimmers Be Doing?" – the REAL issue is "What Do I Believe Is The Best Way For Me To Coach My Swimmers, to Help Them to Realize Their Swimming Potential and to Achieve Their Performance Goals?"
For example, if your Coaching Philosophy is "I Coach Because I Believe In Helping All Swimmers To Realize Their Complete Potential – As Athletes And As Human Beings" – then you'll look for ideas, innovations and information about the holistic development of athletes and for training activities which build and grow the athlete physically, mentally, technically, strategically and improve their self-management skills.
If your Coaching Philosophy was "I Believe That Swimming Is A Sport Where Technique, Skills And Relentless Hard Work Lead To Success – And To Personal Growth" then you'll be drawn to information which helps you to build a training and development environment based on the building of physical capacities, technique and racing skills.
This is why having a Coaching Philosophy is so important.
It gives you as a coach a framework to help you sift through the mountains of information available to you on-line and allows you to discover better ways of coaching – your way.
Coaching without a Coaching Philosophy is like starting out on a journey without a map!
You might eventually get there but it will be more about luck and chance than it is about great coaching.
If you stand for nothing…….you'll fall for anything.
Ask yourself why you coach, challenge yourself to seek and to find an authentic, genuine and honest answer to this question – the rest is easy.
Wayne Goldsmith
Wayne Goldsmith has been an influential figure in world swimming for more than 25 years.
He led Swimming Australia's National sports science / sports medicine program for many years and has spoken at numerous national and international swimming conferences in the USA, Canada, England, Scotland, Spain, South Africa, South Korea, Japan, The Philippines, New Zealand and Australia.
He has written more than 500 articles on swimming, swimming coaching, swimming science, triathlon and swimming performance which have been published in books, magazines and online all over the world.
Wayne has been a staff writer for Swimming World for the past ten years.
Wayne lives, writes and coaches on the Gold Coast, Australia.