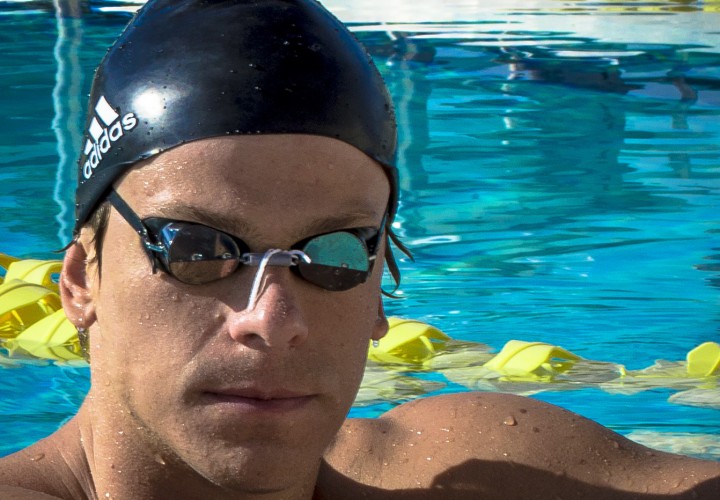 DOHA – Brazil won its first men's 400 medley relay by way of a sizzling anchor leg by Cesar Cielo at the FINA World Short Course Championships. Watch Race Video
Already a winner in the 100 free earlier in the night, Cielo delivered a 44.67 anchor as Guilherme Guido (50.11), Felipe Silva (56.73), Marcos Macedo (49.63) and Cielo put up a 3:21.14 to win the finale.
That's Brazil's first win ever in the event after taking bronze in 2010 with a team of Guido, Silva, Kaio Almeida and Cielo.
Team USA's Matt Grevers (49.79), Cody Miller (57.03), Tom Shields (48.80) and Ryan Lochte (45.87) took second in 3:21.49.
That's Lochte's record 38th career short course medal. He's now won 21 golds, 10 silvers and seven bronzes, and has earned eight medals this week.
France's Florent Manaudou (50.35), Giacomo Perez-Dortona (57.00), Mehdy Metella (49.07) and Clement Mignon (45.84) raced their way to bronze in 3:22.26.
Russia (3:22.53), Great Britain (3:22.78), Australia (3:22.86), Japan (3:22.92) and Germany (3:23.37) closed out the rest of the top eight.
Live Streaming
This stream is a broadcast-rights legal way to watch the FINA World Short Course Championships. Swimming World does not support content theft by linking to or embedding pirated videos via YouTube or any other source.
FINA LIVE STREAM Subject to geoblocking
Scheduled Events
Women's 200 free relay
Men's 100 free
Women's 50 back
Men's 200 back
Women's 200 breast
Men's 100 IM
Women's 100 fly
Men's 50 breast
Women's 50 free
Men's 200 fly
Men's 1500 free
Women's 200 free
Men's 400 medley relay
Women's 400 medley relay
Twitter Coverage
For up to the minute coverage, follow us on Twitter @SwimmingWorld: