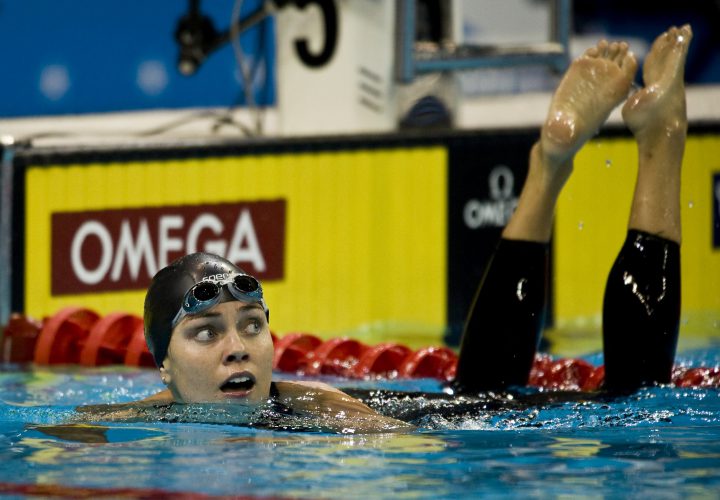 Photo Courtesy: Peter H. Bick
Carondelet High School proudly announces the naming of its state-of-the-art aquatics center for three-time swimming Olympic gold medalist, Natalie Coughlin Hall, who graduated from the school in 2000. The Natalie Coughlin Aquatics Center is a featured part of the school's brand new, six-acre, Walnut Creek-based Carondelet Athletics Complex, expected to open in early 2018.
"Natalie is an inspiration to countless young women around the globe and a role model to our students past and present," said Carondelet President Bonnie Cotter. "Natalie is more than a world-class swimmer and athlete – she personifies values that go beyond sports. We are so proud to be able to honor her and recognize her accomplishments as an athlete and a humanitarian."
Coughlin, who has earned 12 Olympic medals in her career, will be featured prominently at the new athletics complex, with a larger-than-life image of her diving into the pool at the 2008 Beijing Olympics depicted on the wall adjacent to the entrance of the aquatics center. Her image and athletic accomplishments will also be displayed in Carondelet's Hall of Fame, to be unveiled in spring 2018.
"In her professional career and her personal endeavors, through her passion and determination, Natalie has demonstrated what it means to be a woman of heart, faith, courage and excellence – values that are central to everything we hold dear at Carondelet," Cotter said.
While a student at Carondelet between 1996 and 2000, Coughlin became the first swimmer to qualify for the Summer National Meet in all 14 events. She also broke two individual national high school records in the 200-yard individual medley (1:58.45) and the 100-yard backstroke (52.86). She continued to set records while attending the University of California, Berkeley, where in 2002 she became the first woman ever to swim the 100-meter backstroke (long course) in less than one minute.
"Carondelet's new aquatics center and athletics complex will provide a place for Carondelet families to come together to celebrate their student athletes like never before," said Coughlin, who became the first U.S. female athlete in modern Olympic history to win six medals in one Olympiad. "I applaud my alma mater for its commitment to creating greater equity for female athletes by investing in a second campus that will be home to seven teams and all 800 students."
Since its founding in 1965, Carondelet's small campus has had no room for outdoor athletic fields or competition aquatic facilities. As the number of girls playing sports has increased over the years, students have had to travel up to 35 minutes each way for daily practices and "home" games at fields in other cities. The new athletics complex will finally provide a home field advantage for the Carondelet Cougars.
"I'm excited to have our very own pool. It's a big step toward building our team and our reputation," said student-athlete and competitive swimmer Christy Neufeld, a member of the class of 2019. "Natalie Coughlin has always been an inspiration to me. I love her approach to swimming and to life."
Located just two-and-a-half miles from Carondelet's main campus in Concord, the new athletics complex will feature a 10-lane competition pool and diving well, synthetic turf fields for soccer, lacrosse and softball, and six tennis courts. The new campus' 6,000-square-foot student center includes state-of-the-art facilities for strength training and sports medicine, as well as dedicated space for all Carondelet students to study and socialize.
To fund this project, Carondelet launched This is Our Time, a capital campaign to raise a total of $38 million, including $14.5 million for the Carondelet Athletics Complex. Other featured objectives of the campaign are the development of a new STEM Innovation Center to be completed in 2019, as well as a $7.5 million scholarship endowment. Thanks to generous contributions from donors, including a $15 million pledge from the Hofmann Family Foundation, Carondelet has so far raised 78% of its $38 million goal.
The above press release courtesy of Carondelet High School