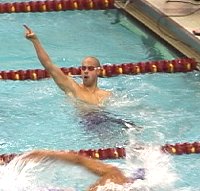 The University of California's 4 x 100m freestyle relay team leads all qualifiers for tonight's finals. The team of Anthony Ervin (47.72), Lars Merseburg (49.05), Scott Greenwood (48.98) and Matt Macedo (48.76) clocked 3:14.51. The time was a US Open record.
Ervin's lead-off time broke the US Open record set by Roland Schoeman in the prelims of the 100 meters earlier this afternoon.
Expect Cal to go significantly faster this evening. Missing from it's prelims team was Bart Kizierwski, the defending champion and pre-meet favorite in the 100 free. Anchor Matt Macedo clearly eased up on his list five or six strokes.
Stanford qualified second at 3:15.28, followed by Texas (3:15.64), Auburn (3;15.96), Minnesota (3:16.27); USC (3:16.32); Hawaii (3:16.49) and Arizona (3:16.54).
B finalists are: ASU; Florida; Nebraska; Tennessee; Georgia; Texas A&M; UNLV and Penn State, as it took a sub-3:20 time to make B finals.