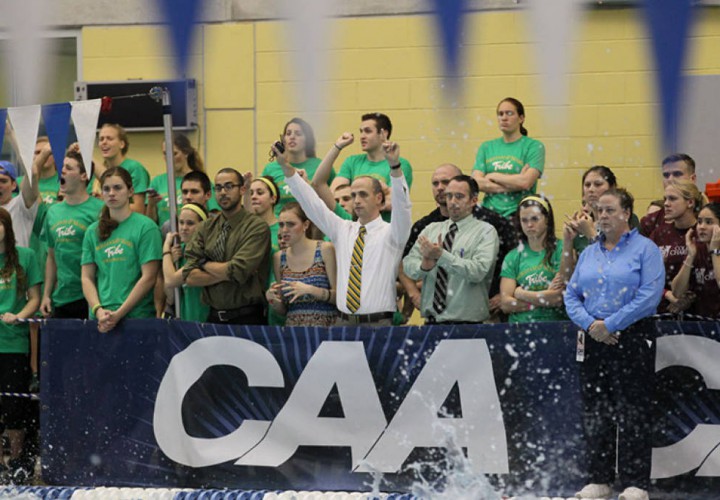 Photo Courtesy: Jim Agnew
The final Colonial Athletic Association (CAA) weekly swimming and diving awards of the first half of the 2017-18 season were announced on Wednesday with four athletes honored.
Drexel sophomore Jason Arthur and William & Mary sophomore Ian Thompson shared Men's Swimmer of the Week honors. Drexel sophomore Alexa Kutch was named Women's Swimmer of the Week after setting a school and all-time CAA record in the 200-yard backstroke and Northeastern senior Jacquelyn Gover grabbed her second Diver of the Week nod.
MEN'S SWIMMERS OF THE WEEK: Jason Arthur • Drexel
Sophomore | Teaneck, N.J.
Arthur registered a season-best time in the 200 back B final at the AT&T Winter Nationals over the weekend, finishing sixth overall in 1:46.78. That time leads the conference for the event so far this season. The sophomore also recorded an eighth place finish in the 100 back C final (50.41).
Ian Thompson • William & Mary
Sophomore | Alexandria, Va.
Thompson's first individual CAA award of his sophomore season comes after scoring 57.5 points for the Tribe at the Princeton Big Al Invitational. He secured a second place finish in the 50 free with a time of 20.31 – the fastest for the event in the CAA this year. The sophomore followed with career-best performances in the 100 back (49.50) and 100 fly (49.43) to place 10th in both events while ranking second currently among league competitors for those times.
WOMEN'S SWIMMER OF THE WEEK: Alexa Kutch • Drexel
Sophomore | Easton, Pa.
Kutch shined at the AT&T Winter Nationals in Columbus, Ohio over the weekend in both backstroke events, including a historic showing in the 200 which saw her set a new program and CAA record. The sophomore turned in a fourth-place showing with a time of 1:54.56, breaking her own school and conference mark of 1:55.12 set at last year's CAA Swimming and Diving Championships. She also came through with a first-place finish in the 100 back B final, touching the wall in 53.10.
WOMEN'S DIVER OF THE WEEK: Jacquelyn Gover • Northeastern
Senior | North Easton, Mass.
Gover earns her second Diver of the Week award of the season after sweeping both boards over the weekend as the Huskies defeated New Hampshire on the road. The senior grabbed 40 individual points for her first place efforts, recording a score of 256.95 on the 1-meter and 238.27 on the 3-meter. Her last weekly award came on Nov. 15.
Press release courtesy of CAA Athletics.