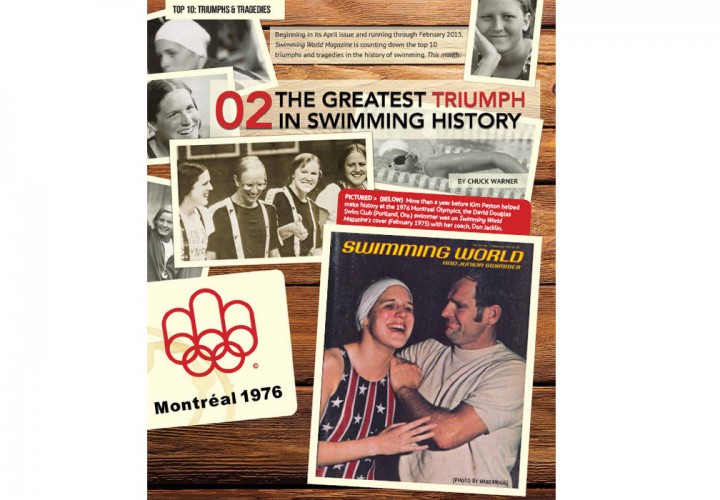 PHOENIX-Stanford Alumni Swimmer Peggy Haslach participated in the 2015 Seattle Brain Cancer Walk this past weekend in Seattle Washington. Haslach, along with her coworkers from Northwestern Mutual, participated in this walk in support of brain cancer research in the Pacific Northwest.
For Peggy Haslach raising awareness and support for this particular disease is very important. Haslach was a teammate at Stanford and friend of Olympic Gold Medalist Kim Peyton who passed away in 1986 at the age of 29 due to an inoperable brain tumor.
Haslach states: "Many of us have been touched by the disease because of a family member, coworker or friend. In my case, it was a teammate of mine from the Stanford Swim team, Kim Peyton. Kim, a swimmer from Portland Oregon, is best remembered for being part the USA's 4 x 100 freestyle relay that stunned the world by beating the East German team at the 1976 Olympic Games in Montreal. The team's win is now billed as "The Greatest Story Never Told" and was covered in Swimming World Magazine this past January. In addition to being a great swimmer, Kim was our team leader, an excellent student, a wife and a friend. A few years after her graduation, and just a little over 10 years after that incredible race, Kim died of a brain tumor."
Haslach, shown here, carried the January 2015 Issue of Swimming World Magazine that featured the gold medal winning USA Womens' 1976 4 x 100 freestyle relay.

USA Swimming is producing a documentary film that explores the dark chapter in Olympic history of systemic doping by the East German women at the 1976 Olympics. It also tells the story of the against-all-odds triumph by the American women's 4×100 relay that ended the meet in Montreal. East German swimmers Kornelia Ender, Petra Thumer and Andrea Pollack also contribute to the film.