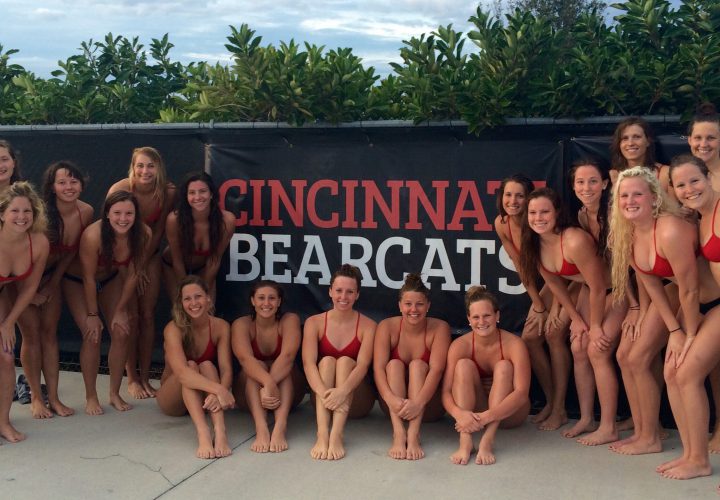 Photo Courtesy: Mandy DiSalle
Agon is the proud sponsor of all high school coverage (recruiting, results, state championships, etc.) on SwimmingWorld.com. For more information about Agon, visit their website AgonSwim.com.
To report a college commitment, email HS@swimmingworld.com. Join Swimming World's Watch List
NEW COMMITS: The University of Cincinnati has received verbal commitments from Ashley Mennenga and Olivia Schmelzer for the 2018-2019 season. Academy Bullets teammates Kenzie Arens and Camryn Streid will also be Bearcats next fall.
Ashley Mennenga
Mennenga is from Medina, Ohio where she is a senior at Highland High School. A USA Swimming Scholastic All-American and a NISCA All-American, Mennenga swims for Medina Recreation Swim Team.
She wrote,
"I am super excited to continue my academic and athletic career at the University of Cincinnati! I knew when I stepped on campus that I wanted to be a part of the amazing environment that the coaches and team have created. I can't wait to be a Bearcat!"
Mennenga is primarily a backstroker with best times of:
50 Back 26.72
100 Back 54.71
200 Back 2:01.87
100 Fly 55.59
Olivia Schmelzer
Schmelzer is from Lancaster, Ohio. She's a senior at Lancaster High School and swims for the Lancaster YMCA. At YMCA Nationals last spring Schmelzer finished second in the 50 free.
A sprinter, her best times are:
100 Free 49.52
50 Free 22.78
100 Back 56.82
50 Back 26.65
50 Fly 25.29