viviLED – Click Here To Learn More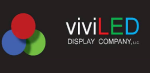 viviLED – Click Here To Learn More
viviLED Display Company was founded on and operates under the principle that viviLED will provide the best product possible at competitive prices while exceeding all customer expectations. viviLED has accomplished this by listening to its customers and integrating the latest technology in both product and manufacturing methods. viviLED has provided information display solutions for its customers in various applications at numerous sites, including scoreboards at aquatic centers, large road-side billboards, and supplying expertise and product for three Olympic games.
Since 1972, viviLED's staff has been meeting the display requirements for sports and athletic events, for industry, and for commercial advertising.  viviLED has consistently demonstrated its engineering leadership through its use of state of the art display technologies, starting with incandescent lamps to retro-reflective displays to today's impressive light emitting diode (LED) video displays.  As a result of our technical excellence and reliability, we supplied displays and staff to three Olympic Games.
Recognizing the tremendous opportunity they present for the commercial and advertising markets, in 2001, viviLED changed its market focus to meet the needs of these business segments.  Our full color, bi-color, and monochromatic LED display customers are located in numerous countries throughout the world.
Video Systems
Two video product families:  viviLED and viviLITE
viviLED – Industry leading high performance RGB displays
viviLITE – Above average industry performance at below average industry pricing
Indoor, outdoor, modular, and portable configurations to meet your needs
Other Aplications
Spectacular displays for hotels, restorts, gaming facilities
Mobile displays
Decorative lighting including channel letters and background lighting
Time and temperature displays
Gasoline price changer displays
Electronic Message Systems
viviSIGN products are available in monochromatic and full color RGB
Indoor and outdoor models in various pixel pitches
Many size configurations
Front maintenance standard with rear maintenance option
Athletics
Banner displays for indoor and outdoor applications
Many scoreboard configurations for most sports
Exceptionally high brightness
Easy to operate
viviLED Video Display Systems
The premier digital LED solution for a wide variety of customer applications.   These industry leading displays offer these exceptional features:

Displays designed to improve your communication with your client.  Providing top of the line solutions for your display requirements
Among the world's brightest LED displays
Exceptional video quality through advanced image processing
Compatible with a variety of well respected digital advertising software programs; does not require proprietary operating systems

Specifications:

Click on product for specfications.
viviLITE Video Display Systems
An innovative lower cost solution to your digital display requirements.   viviLITE products perform at higher than typical industry specifications with lower than industry average pricing.

High quality display solutions at cost effective price points
High video resolution with high brightness LEDs
Maintains viviLED's recognized standards of excellence
Compatible with industry standard software programs, does not require proprietary software

Specifications:

Contact us for product specifications.
Large size displays offer unique opportunity to enhance participation and communicate information.

 

Enhance video image allows for projection of events to be shown on large displays

Bright images, seamless graphics, and live video for today's Spectacular event

Easy of operation enables video projection from various media

Promote specials or future events

For your event, opening or launch, viviLED's provide a display solution that will bring your project in   budget and on time with a presentation to get you that "WOW" factor.

Specifications:

Contact us for product specifications.
Electronic Message Centers
viviSIGN electronic

 message center displays are a cost effective, attention grabbing communication tool.




Easy to install.  Easy to program.  Easy to use.
Time, temperature, graphics, animation, and scrolling text features
Available in monochrome, bicolor, or full color

Specifications:

Contact us for product specifications.
Our banner boards are a new, exciting family of products suited for increasing sponsor's exposure and engaging the sport's fan.

Indoor and outdoor applications

Impact resistant and safe for field or courtside placement

High brightness, high reliability, consistent with all our products

Sectional and coordinated content controls


Specifications:

Contact us for product specifications.
viviLED's scoreboard product line is comprised of basic to deluxe scoreboards with the option to incorporate other viviLED products such as our electronic message centers and video displays.

Very cost effective solutions, from club level to professional arenas and stadiums

Indoor and outdoor sports

Many variations to meet the broad spectrum of athletics

Easy to use