Hasty Awards – Click Here To Learn More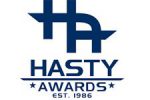 Hasty Awards – Click Here To Learn More
Hasty Awards is a family-owned company that has 30 years of success in providing organizations and businesses their every award need. From ribbons, medals, trophies and plaques to crystal, glass, full color acrylics and promotional items,
Hasty Awards provides unlimited opportunities for organizations to recognize and reward those who excel. Our creative designs, excellent products and competitive prices have positioned us to be a leader throughout the awards Industry as well as being recognized for our high quality and excellent service. Our central location and timely deliveries ensure our products arrive within the time frame they are requested.
Hasty Awards is proud to be a national supplier of youth awards with a long-standing reputation for providing fun, yet economical, awards for all sports and age groups.
Our goal is to provide our customers with:
Fast Turnaround Times
Exclusive Award Designs
Professionally Designed Custom Awards
State of the Art Technology
Reputation of Excellence and Experience
Great Customer Service
Featured Products