Colorado Time Systems – Click Here To Learn More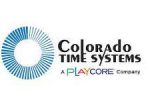 Colorado Time Systems – Click Here To Learn More
Colorado Time Systems (CTS) provides premier athletic facilities across the world with platinum quality timing, scoring and display systems.
Colorado Time Systems' concept was born in the Test & Measurement division of Hewlett-Packard (HP). HP wanted to explore opportunities in the sports timing industry and chose aquatics because it required such precise measurement. In 1972, four HP engineers spun off from HP and founded CTS. From those very specific aquatic beginnings, an extensive and multi-faced sports timing and display company was born.
Throughout the years, CTS has maintained a steadfast commitment to provide cutting edge scoring and display products for all venues. Our display portfolio includes: LED full color video displays, LED single-color animation displays, sport-specific scoreboards, and portable scoreboards. CTS can provide scoring, timing, and display solutions for almost every sport.
Worldwide Presence
Our products can be seen in action at nationwide events held by US Diving, USA Water Polo, U.S. Masters Swimming, and US Synchronized Swimming. CTS products can also be seen at the NCAA Championships and Olympic Team Trials. Internationally; European Junior Championships, FINA Junior World Swimming Championships, China Swimming Association events, African Games, Mexican Swimming Federation events, South American Championships, Pan Pacific Games, SEA Games, and Commonwealth Games have also chosen CTS products for competition.
About Our Parent Company
PlayCore helps build stronger communities around the world by advancing play and recreation through research, education, and partnerships. Our company infuses this learning into its complete family of brands. We combine best-in-class planning and education programs with the most comprehensive array of recreation products available to create play solutions that match the unique needs of each community we serve.  www.playcore.com
Colorado Time Systems sets the standard in aquatic timing and scoring with the System 6 Timing Console. The System 6 is used worldwide at Championship meets; including FINA and NCAA Championships. The System 6 is your central timing console and coordinates incoming and outgoing inform
Get a grip on every start and turn! CTS AquaGrip® touchpads feature the patented AquaGrip® texture over the foundation of a tough plastic backbone. The AquaGrip® touchpads combine the best starting and turning surface available with the proven design that all Colorado Time SystemsR
Colorado Time Systems offers comprehensive solutions for all venues; whether arena, stadium, commercial or aquatics. Full color LED video displays can be used as standalone units or combined with numeric or single color LED matrix displays for added impact. These dynamic displays show
  Colorado Time Systems' numeric scoreboards are a cost-effective way to provide information, involve the audience and showcase the athletes for all aquatic sports. Modules can be used singly or combined in multiple-module scoreboard designs. Whether you choose light-reflective o
Dual Purpose Board with red digits (LED6-DP) Save space and money. Signage & Digits in one enclosure. The sleek design allows you to display home and guest scores or current event and heat without the need for additional signage. Module dimensions are the same as CTS standard sing
Colorado Time Systems' Relay Judging Platform technology is the most accurate way to judge relay exchanges, and provides a fair start to hearing impaired athletes. We've retained the dependability and accuracy of the Relay Judging Platform with Speedlights (RJP), and are pleased to of
The Championship Start System delivers rugged durability and long lasting performance. This high-powered, easy to set up system is an excellent choice for larger aquatic facilities. The Championship Start System allows you to design a customized solution for your pool. It can drive sp
The Infinity Start System is an excellent entry-level start system, and is a great choice for smaller pools and recreation centers.
Buy Backstroke Start Device The backstroke start device (patent pending) from Colorado Time Systems helps to eliminate slips at the start of a race. ʘ  Anti-slip foot backstroke wedge ʘ  Easy to set up ʘ  Automatically retracts up and out of the water ʘ  Robust construction ʘ  Adapts
Large 10" LED digits (red or amber) can be adjusted for indoor or outdoor use. Synchronize multiple clocks for use on deck. Choose the functions you need: Basic Pace Clock All of these units can be run as standalone pace clocks, or set to run in a series of pace clocks with or without
The Titanium Deckplate will revolutionize the look, feel, durability, and functionality of your facility. Deckplates are required to permit plug-in connections for touchpads, A/B/C backup pushbuttons, electronic relay judging, start speakers, and a signal to start the timing device at
The Quick Connect Deck Plate system from Colorado Time Systems keeps your pool deck free from cables and makes set up quick and easy. The Quick Connect Deck Plate provides integrated support for our speedlight technology. A connection hub under the block replaces the traditional deck
The wallplate cover helps protect your wallplate connections when they are not in use.  The locking mechanism helps to prevent unwanted tampering.  These wallplate covers can be used for either the universal aluminum wallplates or retrofit to existing facilities with the standard ABS

The SwimPro camera system brings you the best-in-class coaching camera system available on the market today.  The SwimPro system features Gen7 integration for additional display of timing data during training and/or on any CTS video display during competition to enhance the fan experience.
SwimPro systems give you the flexibility to stream or record during practice and provide real-time or delayed feedback to your athletes.  Systems are available with 1, 2, 4, or 6 wired or wireless cameras, either permanently installed or portable.  This allows you the flexibility to choose your camera locations to suit your needs.
Cameras:  HD cameras provide superior image clarity with high quality, and are housed in a tough stainless steel casing designed to withstand the rigorous swimming pool environment.
Each system features robust hardware and software, access to the SwimmingCloud and the iPad app.
The newest trend in aquatic fitness is aquatic cycling.  This European-influenced versatile underwater aquatic bike uses water as a natural form of resistance for an effective, low-impact workout that is perfect for rehabilitation patients or water enthusiasts.  The aquatic bike itself is lightweight and comes in a variety of colors.  With adjustable handle bars and seat, riders can pedal in exercise, standing, or race mode.  WaterFit your way into shape with an intense, yet therapeutic workout.