Agon Swimwear – Click Here To Learn More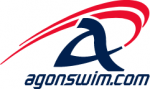 Agon Swimwear – Click Here To Learn More
Agon Sport LLC is in the athletic apparel, accessory, and equipment business. Currently, our customers include swimmers, water-polo players, lifeguards, divers, synchronized swimmers, and triathletes.
In the future, we hope to expand the number of sports we serve. Agonswim.com creates value for athletes by creating high quality, custom-dyed athletic apparel, which is our distinctive competency. Our principal objective is to help sports teams build unity, spirit, and pride by providing them with custom team apparel, accessories, and equipment.
Company History
Agon Sport LLC began with an idea: to fill a gap in the sport of swimming. All other sports teams wear matching uniforms that incorporate the team's colors, logos, and mascots. Why shouldn't swim teams have the same opportunity? Thus, Agonswim.com created its custom-dyed team swimwear products to meet the needs of teams who want a unique and uniformed look. Agonswim.com is able to custom dye swimwear for teams, any way they want their suits to look, with custom colors, designs, logos, and mascots — even individual names! Teams can literally design anything they want on their suits. We believe that in this way Agonswim.com offers a valued benefit to swim teams. We provide teams with the ability to create their own image and build unity.
Agonswim.com is a recent entrant into the swimwear market, having been incorporated in 2000. Our success is dependent on three things. First, the uniqueness of our custom-dying process allows us to manufacture small quantities of custom-dyed swimwear, suited to swim teams that range from 12 to 300+ swimmers. Our success is also due to our commitment to quality. We use the finest fabrics and highest quality materials in all of our products. Third, Agonswim.com is a small company, so we are able to establish a personal relationship with our customers.
Agonswim.com is a company created by swimmers for swimmers. The company was founded by Rafael Escalas, Henar Alonso-Pimentel, Juan Enrique Escalas, and Jennifer Edson Escalas. Agon Sport LLC is incorporated in the United States of America. The company is headquartered in Nashville TN. Our name, Agonswim.com, refers to a little known Greek god who represents the spirit of self-actualization through athletic competition.