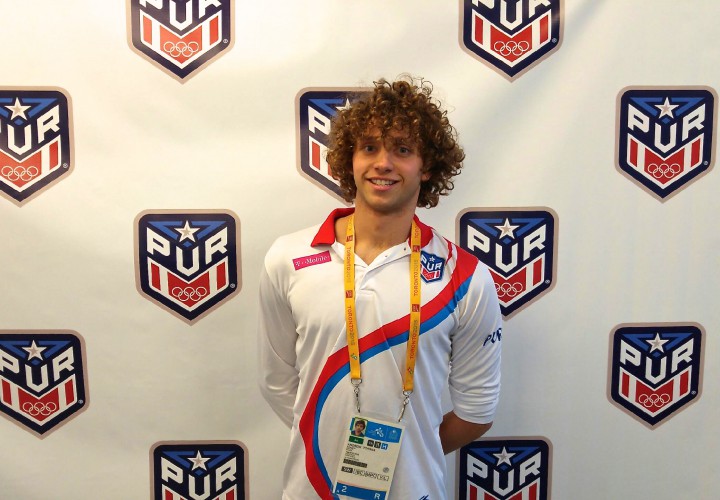 Photo Courtesy: Brian Schrader
By Nicole Cassou, Swimming World College Intern
Since joining the North Jeffco swim team at the age of 12, Andrew Torres has established himself as a household name in the Colorado swimming community. The Ralston Valley High School alumnus and rising senior at the University of Denver holds two Colorado state records in the 100-meter fly and the 400-meter medley relay, as well as three DU school records in the 100 and 200-yard fly, and the 200-yard medley relay.
Next week, Torres will compete in the Pan American Games in Toronto, representing an entirely new community as a member of the Puerto Rican National Team.
Blood Heritage
It wasn't until his sophomore year of college that Torres discovered he could take his talent to the international stage by representing Puerto Rico. Since the Puerto Rican Olympic Committee reached out to Denver head coach Brian Schrader concerning Torres' blood heritage eligibility based upon his paternal grandparents birthplace in the U.S. territory, Torres has embraced his roles as a leading member of both Team Puerto Rico and the DU Pioneers.
"This experience has been motivating for him and for me," Schrader said. "It truly is a privilege to represent a country and wear the flag, and to be a part of these international sporting events is an experience that is unlike any other."
Balancing Act
Torres could have easily viewed starting this balancing act between college swimming and competing at an international level in his junior year of college as a daunting task, but instead, he took on the challenge with the kind of attitude that is a true testament to his love for the sport.
"If someone loves swimming more than Andrew please let me know," Denver teammate and Torres' roommate Kyle Robrock said. "Everyday he has a goofy but positive attitude, regardless of the set."
When asked how he managed two separate swimming careers he responded with a smile, describing his situation as simply, "swimming and then extra swimming," adding, "it's fun, I like doing it."
It is this outlook of ease that has been infectious among his teammates over the years.
"Andrew Torres reminded me every day why I loved swimming, I met him when I was 16 and he still has the same attitude that he did as a carefree 15-year-old," graduated Denver teammate and fellow Colorado club swimmer Darian Brunetti said. "None of the cynicism or ennui that typically comes with college swimming has ever penetrated his spirit."
A New Role Model
Now, Torres has begun to inspire others in the Puerto Rican swimming community, becoming a role model for young age-group swimmers whose meets are often combined with the National Teams'. In his true character, Torres humbly accepted this role.
"They kind of look up to me, and they message me and are like 'Yeah, I want to be just like you, swimming up there with the big guys,' " Torres said. "It makes me feel really good because I try to be my best and they like seeing that. It feels good knowing that they look up to you and they see you as a pretty big deal," he added. "I would have never have thought that happening to me, ever."
Pan-Ams and Onward
To give himself the best chance to qualify for the Pan American Games, Torres missed DU's dual meet against rival Wyoming to compete in the Arena Pro Swim Series at Austin in January. Ultimately, this sacrifice made by Torres with the support of Schrader paid off. Racing alongside elite butterfliers Andrew Seliskar and Tyler Clary, Torres came in second to Seliskar in the 200-meter butterfly with a time of 1:58.99, a FINA A cut for Pan-Ams.
Torres will compete in the 200-meter butterfly Tuesday, July 14, where his goal is to make it back to finals. He also has his sights set on a FINA A cut for the 2016 Olympic Games, a 1:56.97, only 1.97 seconds off his best time. He'll also be racing the 100-meter butterfly, and some of the relay events in Toronto.
"Truly, the goal is to eventually represent Puerto Rico and swim in the Olympic Games, and this experience [Pan-Ams] will prepare him well both with living in a village and having to get ready in that environment with all the fun distractions and events," Schrader said.
After Pan-Ams, Torres will start his senior year at the University of Denver in September. For many college swimmers, by the time senior year rolls around, these often worn athletes will adopt an attitude focused solely upon their anticipation of earning that long sought after "swammer" status. Torres, who truly enjoys the sport of swimming, will undoubtedly overcome this strain of senioritis in pursuit of the 2016 Olympic Games.