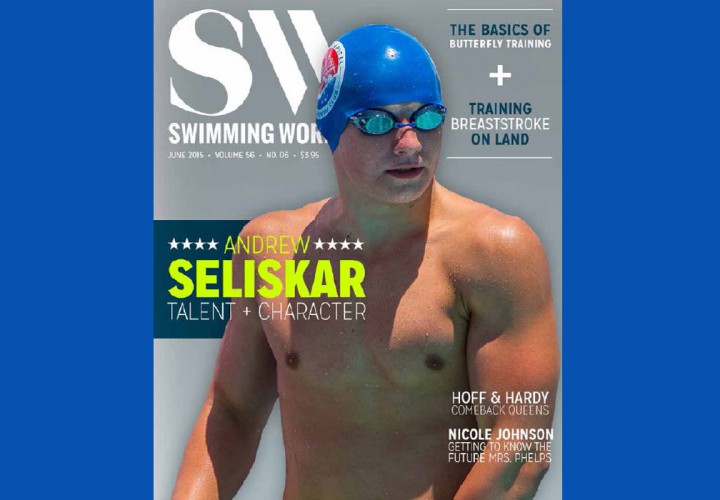 Swimmings Next Generation of Stars
On The Cover: Andrew Seliskar
PHOENIX- In the June 2015 Issue Swimming World Magazine features swimmings next generation of stars with Andrew Seliskar. Andrew Seliskar swims with Coach John Flannagan at the Tysons branch of Nation's Capital Swim Club, VA. Only 18, his accomplishments already include gold medals at Junior Worlds and Junior Pan Pacs, junior and senior national titles, six state high school records and a team title, plus 10 NAG records in the last three years. With his talent, character and potential, it's only the beginning of what should be an illustrious career. Seliskar is headed to Cal this fall as the No. 1 college recruit in the country. His club coach, John Flanagan, is quick to add, "That talent is coupled with really great character traits."-Photo by Peter Bick (See story, page 14)
Get you copy of the June 2015 Issue of Swimming World Magazine now!
Check out the inside Swimming World video:

Not a subscriber? Swimming World Magazine Subscription gives you unlimited access to all online content on SwimmingWorldMagazine.com and access to all of the back issues of Swimming World Magazine dating back to 1960! Purchase your Total Access Subscription TODAY!
JUNE TABLE OF CONTENTS:
FEATURES


014 Rockstar Seliskar
by Annie Grevers
Andrew Seliskar of Nation's Capital Swim Club is headed to Cal this fall as the No. 1 college recruit in the country. His club coach, John Flanagan, is quick to add, "That talent is coupled with really great character traits".


025 Getting To Know Nicole Johnson, The Future Mrs. Phelps
by Annie Grevers
Swimming World Magazine had the opportunity to sit down with Michael Phelps' gracious fiancee during the Arena Pro Swim Series in Mesa, Ariz.


026 Summer Swimming's Stepping Stones?
by Jeff Commings
Two international meets are being held this July that could possibly foretell future success at next year's Olympic Games in Rio.


028 Comeback Queens
by Annie Grevers
Olympic medalists and world champions Katiue Hoff and Jessica Hardy share their stories of returning to swimming after injury.


030 Pooling Team Excellence
by Annie Grevers
Swimming World Magazine reached out to some seasoned talents to find out what makes the water in certain team environments more inviting and more productive.
COACHING
010 Lessons With the Legends: Jon Urbanchek
by Michael J. Stott
018 Basics of Butterfly Training: 100 vs. 200 FLY
by Michael J. Stott
Training for the 100 and 200 fly today is a lot different than the way swimmers used to train for the two events in years past.
022 Swimming Technique Misconceptions: Breaststroke Breathing
by Rod Havriluk
A common swimming technique misconception is that a breaststroker should not change the angle at the neck to breathe. Typical advice is to maintain the non-breathing neck angle when breathing to avoid straining the neck and causing resistance by dropping the hips. However, swimmers can actually minimize resistance without neck injury by using the full range of motion of the neck to breathe.
033
2015 Aquatic Directory (Click Here To View)
052 Q & A With Coach Chris Plumb
by Michael J. Stott
053 How They Train Amy Bilquist, Claire Adams and Veronica Burchill
by Michael J. Stott
TRAINING
013 Dryside Training: On-land Swim Stroke Movements-Breastroke
by J.R. Rosania
JUNIOR SWIMMER
046 Up & Comers
COLUMNS
008 A Voice For The Sport
033 2015 Aquatic Directory
047 Gutter Talk
048 Parting Shot