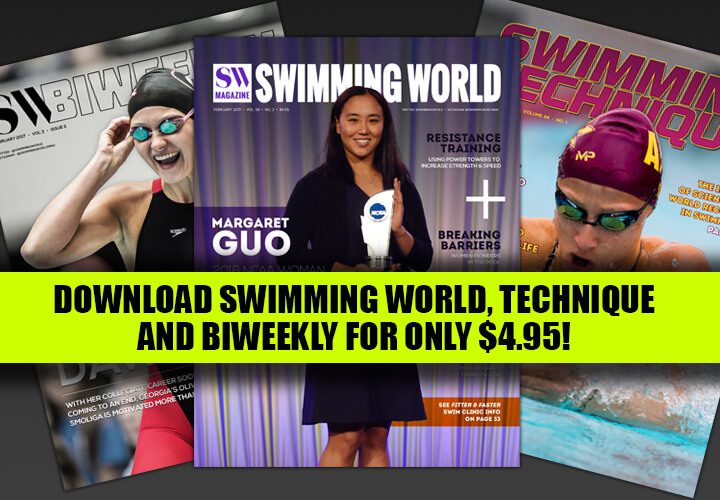 Purchase a 30-Day Total Access Subscription* today for only $4.95 and get digital access to the current issue of Swimming World Magazine, Swimming World Biweekly and Swimming Technique Magazine in the Swimming World Vault.
ABOUT THE CURRENT SWIMMING TECHNIQUE MAGAZINE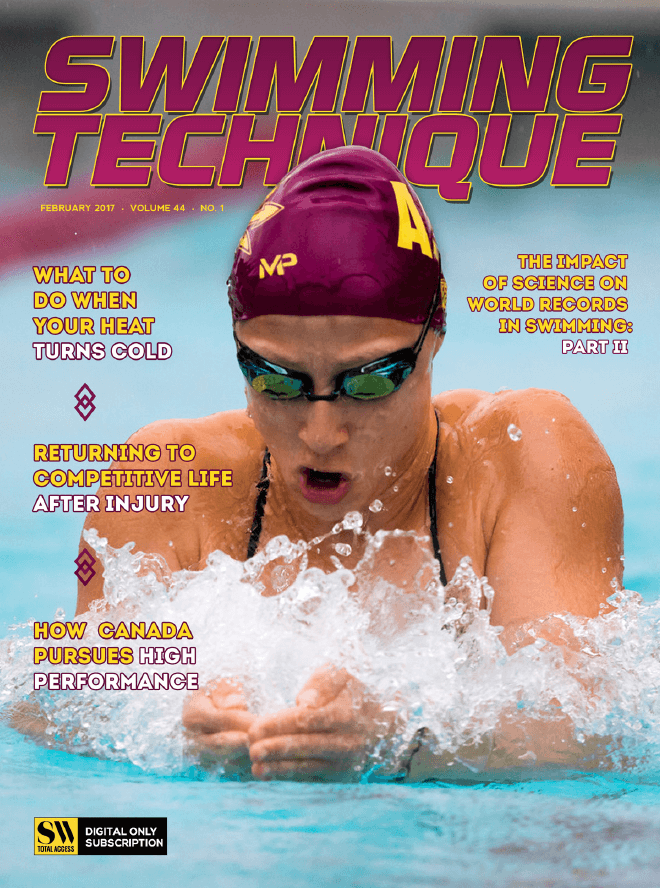 FEATURES:
06 PRIVATE LESSONS WITH WAYNE
by Wayne Goldsmith
Professor, swimming coach, Ph.D.? Getting your coaching B.A.S.E. right.
10 THE IMPACT OF SCIENCE ON WORLD RECORDS IN SWIMMING: PART II – THE RISE AND FALL OF SCIENCE
by Rod Havriluk, Ph.D. & Tyler Gambill
This article (Part II) covers the rise and fall of the application of science to swimming. There are many indications that the use of science had a measurable positive effect on performance from 1960 to 1980…
14 WHEN A SWIMMER PEAKS…NOW WHAT?
by Michael J. Stott
When athletes are at the point of considering retirement, conversations are never easy. They require lots of honesty, soul searching and a heavy dose of reality testing. In all cases, the retiree-to-be ultimately faces a moment of truth. That moment has both mental and physical components…
18 WHEN YOUR HEAT TURNS COLD
by Wayne Goldsmith
You're shocked…disappointed…appalled…confused…angry…sad. You're not even sure how you feel right now. Your coach is standing there just as flabbergasted and stunned as you are. The question now is: "How can you—and will you—swim seconds faster in the final in just a few hours?"
20 DEVELOPING MENTAL TOUGHNESS: TO SWIM LIKE A CHAMPION, FIRST THINK AND ACT LIKE ONE
by Dave Crampton
Mental toughness is one of the most important psychological aspects of swimming. Having that winning mindset not only separates the great swimmers from the good ones, it enables you to perform at your best and achieve your goals.
24 HOW SWIMMING CANADA PURSUES ITS DEFINITION OF HIGH PERFORMANCE
by Swimming Canada
Swimming Canada enjoyed some of the country's greatest results ever at the Rio 2016 Olympic Games, especially compared to previous Games, including London 2012. But the success didn't happen overnight…
30 RETURNING TO COMPETITIVE LIFE AFTER INJURY: THREE PERSPECTIVES
by Michael J. Stott
In swimming, recovery can take several forms. Catching one's breath after an exhausting set is one thing, but coming back from debilitating sickness or injury is quite another…
32 THE TEAM IN SWIMMING: FORM, STORM, NORM, CONFORM
by Dr. John Heil
When swimmers think "team," they think relays. There is the shared exuberance and the thrill of victory times four. There is also a softening of defeat with the burden of sadness divided by four. But relays are just the tip of the iceberg of the team experience…PLUS – HAZING OR TEAM BUILDING pg. 33
34 THE STRAIGHTNESS BACKSTROKE KICK MAKES FAST SPEED AND INCREASED LACTATE ACID
by Takahisa Ide, William F. Johnson, Yutaka Yoshimura, Noriko Inada & Sadafumi Takise
The following articles analyzes the effect a straight knee kick has on the production of lactate acid during elite-level backstroke competitions. Using results from Lactate Pro, we concluded that with proper technique, the straight-knee butterfly kick can increase speed, and proper training will be able to mitigate the excess production of lactate acid.
ABOUT FEBRUARY SWIMMING WORLD MAGAZINE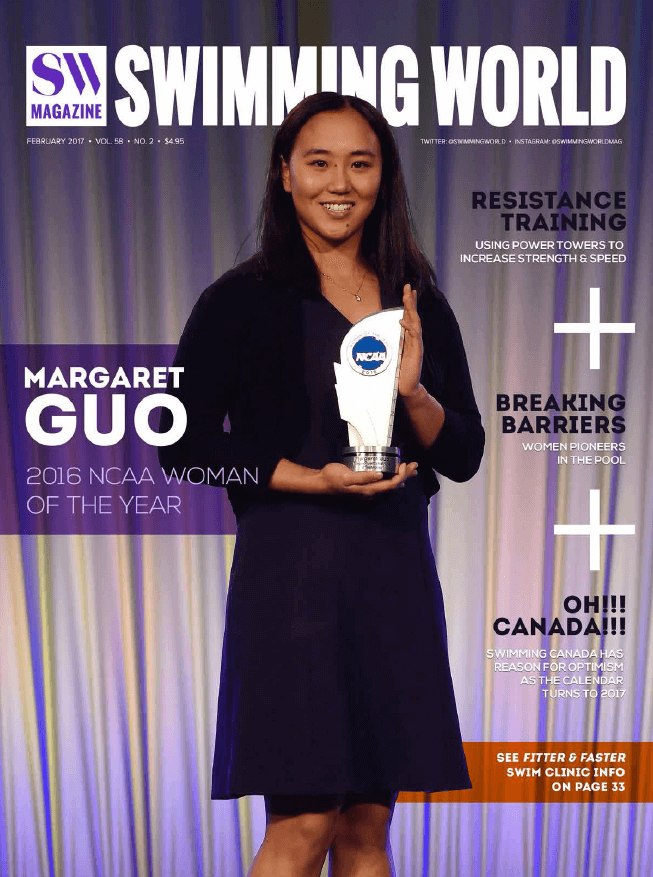 FEATURES:
013 BARRIER BUSTERS: FIERCE FEMALE FIRSTS
by Annie Grevers
In a sport that obsesses over milliseconds, time barriers matter. Here are a few of our sport's most notable female barrier busters.
016 AMERICAN SWIMMING TEAM (Part III): PRESENT—THE TOP TEAM
by Chuck Warner
In this third of a six-part series on the American Swimming Team, Swimming World takes a look at Team USA's performance at the Olympic Games, offers an analysis of world rankings and discusses professional swimming in the United States.
018 OH!!! CANADA!!!
by David Rieder
With a head-turning performance at last summer's Rio Olympics—along with the country's best-ever medal haul at last summer's Junior Pan Pacific Championships— Swimming Canada has plenty of reason for optimism as the calendar turns to 2017 and beyond.
020 NCAA WOMAN OF THE YEAR: JUST GUO FOR IT
by Annie Grevers
Margaret Guo, a swimmer who earned dual degrees from MIT in electrical engineering and computer science and in biological engineering, was honored as the 2016 NCAA Woman of the Year.
026 AN OPPORTUNITY OF A LIFETIME
by David Rieder
With most of the Olympic team declining spots on the roster of the U.S. team that competed at the Short Course World Championships in Windsor, Canada, several American rookies were able to swim at the biggest meet of their careers.
COACHING
009 SPECIAL SETS: 'TIS THE SEASON
by Michael J. Stott
One of the more innovative thinkers in swimming is Sandpipers of Nevada coach Rob Aitken. Here are some sets he does with his athletes during the post-Christmas holidays and run-up to the championship meet season.
010 LESSONS WITH THE LEGENDS: FLIP DARR
by Michael J. Stott
023 RESISTANCE TRAINING REVISITED: POWER TOWERS
by Michael J. Stott
The second installment on resistance training focuses on Power Towers and how coaches are using them to make their athletes stronger and faster in the water.
042 Q&A WITH COACH JASON OWEN
by Michael J. Stott
043 HOW THEY TRAIN FELIX EIGEL
by Michael J. Stott
TRAINING
025 DRYSIDE TRAINING: MORE CORE!
by J.R. Rosania
JUNIOR SWIMMER
030 GOLDMINDS: SWIMMING 101 (Part II)
by Wayne Goldsmith
The January issue of Swimming World featured #s 1-55 of 101 things you can do that will make you a better swimmer. This month's magazine gives you the rest of the list: #s 56-101.
046 UP & COMERS
by Taylor Brien
COLUMNS & SPECIAL SECTIONS
008 A VOICE FOR THE SPORT
034 2017 SWIM CAMP DIRECTORY
047 GUTTER TALK
048 PARTING SHOT
ON THE COVER
Margaret Guo, a two-time swimming All-American at MIT, became the first athlete from her school to win the NCAA Woman of the Year award—and just the fourth Division III athlete in the award's 26-year history. She interned with Medtronic—the world's largest medical technology development company—after her freshman year, and has two patents to her name in the medical technology field. At 21, Guo is now working on her doctor of medicine and philosophy at Stanford University. (See feature, page 20.)
[PHOTO COURTESY NCAA, PROVIDED BY MIT ATHLETICS]
ABOUT CURRENT SWIMMING WORLD BIWEEKLY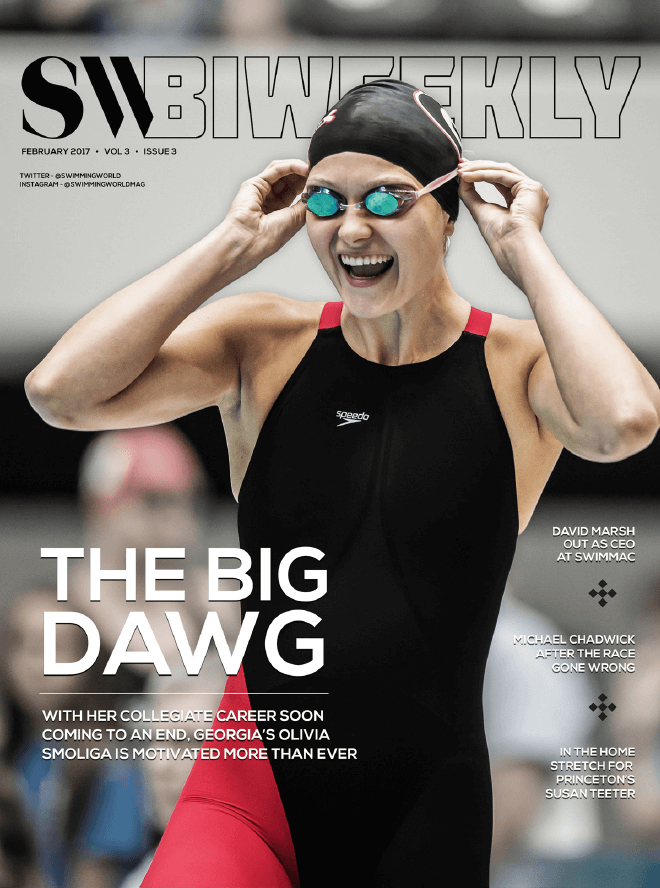 FEATURES:
006 INDIANA ADDS COLEY STICKELS TO COACHING STAFF
Indiana University head swimming coach Ray Looze announced the hiring of Coley Stickels as Associate Head Sprint Swimming coach effective July 1. Stickels will take over for Associate Head Coach Dennis Dale, who will be retiring at the end of the season.
007 DAVID MARSH STEPS AWAY FROM HEAD COACH/CEO ROLE AT SWIMMAC
by David Rieder
David Marsh, the head coach of this summer's U.S. women's Olympic Team, will no longer be the head coach and CEO of the SwimMAC Carolina. Coach Terry Fritch has taken over as the club's head coach.
008 ONE YEAR AFTER BREAKOUT ACCs, MALLORY COMERFORD STILL ON THE UPSWING
by David Rieder
At the biggest meet of her life, Mallory Comerford stepped up onto the blocks in a key spot. In the first event of the 2016 ACC Championships, Kelsi Worell had given Comerford a lead of two tenths of a second for the anchor leg of Louisville's 200 medley relay…
010 WHAT CHANGED FOR MICHAEL CHADWICK AFTER THE RACE-GONE-WRONG
by David Rieder
The plan went off the rails before Michael Chadwick even had time to blink. Seeded fifth overall, he had a middle lane next to Anthony Ervin in the prelims. But as soon as he dove into the water, everything fell apart, and there was nothing he could do about it…
012 IN TRAINING WE TRUST
by Chandler Brandes
Swimming is a sport of delayed gratification. We work months, if not years, for a race that's over in the blink of an eye. As Championship season quickly approaches, a variety of emotions takes over your brain: excitement, anxiousness, eagerness. And, inevitably, a little bit of self-doubt and lack of self-confidence…That's where trust comes into play.
014 STACKING UP THE MEN'S TEAMS IN THE SEC
by David Rieder
In any discussion of the favorites for this year's men's NCAA Championships, three teams have gotten most of the love –Texas , Cal, and NC State. All for very good reasons…
016 PROGRAM-CHANGING DUAL MEET WIN FOR DUKE BLUE DEVILS
by David Rieder
Duke and North Carolina have developed one of the best rivalries in college athletics. Men's basketball gets most of the attention, but the competition encompasses almost all sports. Except, that is, swimming and diving, where the match-ups between the two schools have been notably one-sided…
018 ARIZONA AND ASU MEN TIE AFTER INTENSE RIVALRY SHOWDOWN
by David Rieder
First came the drawn-out chants of "ZO-NA! ZONA!" from the team clad in red and blue on the side of the pool. After barely a second of silence, a quick-paced "A-S-U! A-S-U!" cheer emanated from the young men and women in maroon and gold lined up along the upstairs railing inside the Hillenbrand Aquatic Center…
020 SUSAN TEETER REACHING THE HOME STRETCH AT PRINCETON
by David Rieder
If it seems like Susan Teeter has been coaching at Princeton forever, think about this fact: when most of her current class of freshmen was born, Teeter was already in her 14th season on the job. Her tenure at the school has now stretched to 33 years.
022 BOB COSTAS STEPS DOWN AS NBC OLYMPIC HOST; PASSES TORCH TO MIKE TIRICO
by David Rieder
After 25 years as NBC's prime-time Olympic host, Bob Costas and NBC have announced that the Olympic hosting torch is being passed on to Mike Tirico.
024 USA SWIMMING ANNOUNCES SELECTION PROCEDURES FOR WORLD CHAMPIONSHIPS, WORLD UNIVERSITY GAMES
by David Rieder
USA Swimming has posted the qualifying procedures for this summer's major international meets, the FINA World Championships and the World University Games.
025 OLIVIA SMOLIGA MORE MOTIVATED THAN EVER
by Dan D'addona
Olivia Smoliga is heading into the stretch run of her collegiate career more motivated than ever. The Georgia senior has the motivation of a defending national champion, the motivation after a disappointing finish and the motivation after her team's wake-up call…
028 FOR 15 YEARS, PHELPS AND BRADY ON TOP OF THE WORLD
by David Rieder
The Patriots' streak is one of unprecedented dominance in the National Football League: the team has won one-third of all championships over a 15-year period. That stretch just so happened to correspond with the reign of Michael Phelps as the best swimmer in the world…
030 STANFORD PREVAILS OVER CAL IN WOMEN'S WATER POLO
by Michael Randazzo
At the 17th annual Stanford Invitational, the host Cardinal's top-ranked women's water polo team passed its first big test of the season with a 10-7 win over #4 Cal Berkeley…
Purchase a 30-Day Total Access Subscription* today for only $4.95 and get digital access to the current issue of Swimming World Magazine, Swimming World Biweekly and Swimming Technique Magazine in the Swimming World Vault.
Note: This is an auto-renewing product and can be cancelled at anytime.