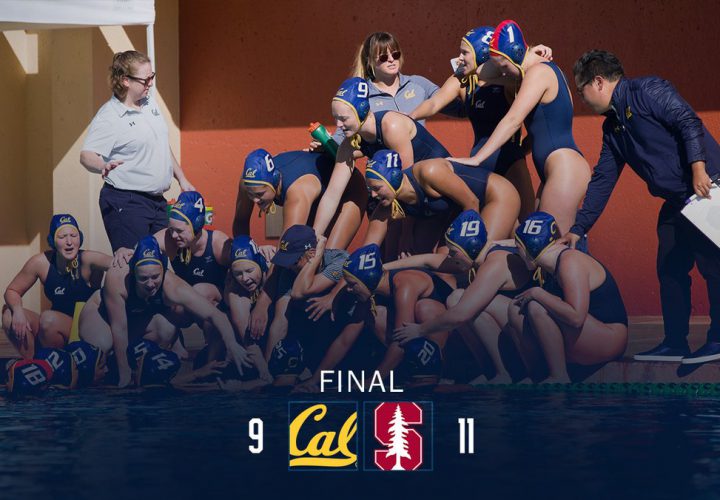 1st big match of 2018; #1 Stanford over #2 Cal at Stanford. Photo Courtesy: Catharyn Hayne
By Michael Randazzo, Swimming World Contributor
Editor's Note: Swimming World continues its coverage of the 2018 NCAA Women's Varsity Water Polo season. Look for interviews, conference predictions and the best coverage of the sport in America and beyond.
It's all done. Swimming World has published conference previews of the seven conferences that will send teams to the 2018 NCAA Women's Water Polo Tournament.
This is no small task. There are approximately 60 varsity women's programs in the U.S., and we previewed 53 of them. In case you missed it (or would like a nice compilation of all our previews) here they are, with our predicted winners (be sure to check back in May and see how we did):
Big West Water Polo Conference—Hawai'i
Collegiate Water Polo Association—Michigan
Golden Coast Conference—Pacific
Metro Atlantic Athletic Conference—Wagner
Mountain Pacific Sports Federation—Stanford
Southern California Intercollegiate Athletic Conference—Pomona-Pitzer
Western Water Polo Association—UC San Diego
A couple of observations, both from the review process and all the action happening so far in the 2018 season (and there's been a lot).
McKendree is a relatively new program launching in 2018, and it's exciting to see how the Bearcats will do in the 2018 Western Water Polo Association. The WWPA may be the most intriguing conference in women's polo, as Commissioner Steve Doten looks to mesh two entirely different water polo cultures.
Another great story is the construction of a new pool at Occidental. The Bears will have to wait until next year for the Townsend Crosthwaite Pool to be finished; if all goes according to plans, this new facility will be worth the wait.
The Anteaters of UC Irvine have a number of obstacles towards repeating as Big West champs. One—which caught Swimming World by surprise—is that Mary Brooks, the Big West Player of the Year in 2016 and 2017, decided to red-shirt this season. Not only does this make UC Irvine's chances that much less likely, Hawai'i is looking VERY strong early in the year.
Last weekend the Rainbow Wahine went to Tempe, AZ and beat the host Sun Devils 10-9 in the ASU Cross Conference Challenge. There's no question that Hawai'i will be hard to beat this year, and losing their best player doesn't bode well for the Anteaters.
In another big early season match-up, #2 Cal faced #1 Stanford in the Stanford Invitational, and the Golden Bears lost 11-9 to the Cardinal.
One last noteworthy match of the weekend; Pomona-Pitzer came up big against the Chinese national team that has been touring the U.S. the past few weeks. The Sagehens surprised the Chinese in the Whittier Mini Tournament last Saturday, capturing a 14-12 win, their first-ever win against China.
Buckle your seat belts water polo fans; we're all in for an exciting season!