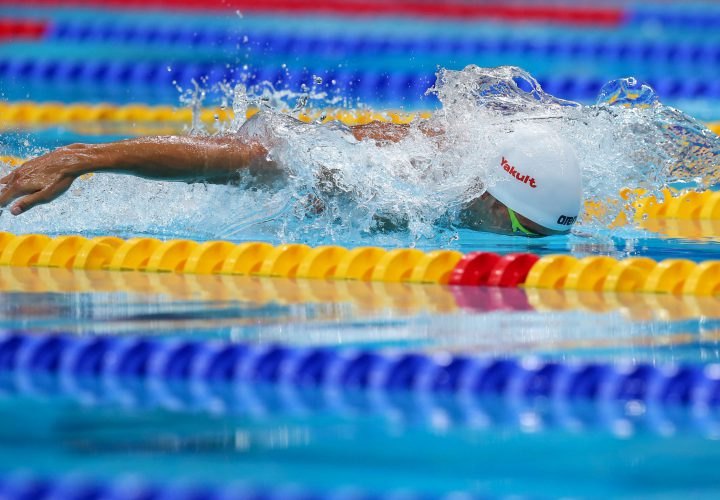 Editorial content for the 2017 FINA World Cup is sponsored by TritonWear. Visit TritonWear.com for more information on our sponsor. For full Swimming World coverage, check event coverage page.
The first night of finals at the World Cup in Hong Kong will feature a long schedule of events as some of the best swimmers will be on display on Saturday night in Hong Kong. Katinka Hosszu is the top seed in three different events while money leaders Sarah Sjostrom and Chad Le Clos are swimming only one event each. Hong Kong's Kenneth To is also top seed in the 100 IM.
Tonight's events:
Men's 100 Free
Women's 200 Free
Men's 50 Breast
Women's 100 Breast
Women's 100 Fly
Men's 100 Back
Women's 50 Back
Men's 200 Fly
Women's 200 IM
Men's 400 Free
Women's 50 Free
Men's 200 Breast
Men's 100 IM
Women's 200 Back
Men's 50 Fly
Women's 800 Free
Men's 400 IM
Mixed 4×50 Medley Relay
Men's 100 Free
Russia's Vladimir Morozov held off a strong swim from South Africa's Chad Le Clos as the former won with a 45.91 to Le Clos' 46.10 in the first final of the Hong Kong World Cup. Local Hong Kong swimmer Kenneth To was third with a 47.28.
Women's 200 Free
Sweden's Sarah Sjostrom was under her own world record pace through 150 meters but fell short of her own record as Sjostrom swam a 1:51.77. She was a bit off her 1:50.43 in the end but it was good enough for the win. Femke Heemskerk finished in second at 1:53.14 while China's Shen Duo was third at 1:55.69.
Men's 50 Breast
South Africa's Cameron van der Burgh continued his dominance in the sprint breaststroke events with a win in the 50 on Saturday night in Hong Kong with a 25.80 for the win here. He was the only swimmer under 26 as Russia's Kirill Prigoda (26.16) and Belarus' Ilya Shymanovich (26.23) rounded out the podium.
Women's 100 Breast
Jamaica's Alia Atkinson swam a 1:04.09 as she ran away from Denmark's Rikke Pedersen, who finished second at 1:05.28. Canada's Kierra Smith was third at 1:05.65 as the top three were well ahead of the rest of the field.
Women's 100 Fly
Sweden's Sarah Sjostrom narrowly missed the World Cup meet record with a 55.32 for a sizeable win. Sjostrom just missed Alicia Coutts' meet record of 55.30 from the Tokyo World Cup in 2013. China's Zhang Yufei finished in second with a 57.26 and Netherlands' Ranomi Kromowidjojo was third with a 57.78.
Men's 100 Back
Germany's Christian Diener led a wire-to-wire win in the men's 100 back over Poland's Radoslaw Kawecki (51.58) and Belarus' Pavel Sankovich (51.80).
Women's 50 Back
Katinka Hosszu just out-touched Emily Seebohm in the final of the women's 50 back on Saturday night in Hong Kong. Hosszu swum a 26.24 ahead of Seebohm's 26.32. There was a tie for bronze with Hong Kong's Stephanie Au and the Netherlands' Maaike de Waard at 26.95. This is Hong Kong's first medal of the meet on the women's side.
Men's 200 Fly
Chad Le Clos got direct access to the final for being a world record holder, but he was upstaged by Tom Shields in the 200 fly final. Shields took the lead early on Le Clos as Shields held him off with a 1:49.62 to be the only swimmer under 1:50. Le Clos finished in second despite a strong last 50 at 1:50.28. Shields was also under Le Clos' world record pace at the 100, but fell off the pace over the back half.
Japan's Yuya Yajima finished in third with a 1:52.64 ahead of Rio bronze medalist Tamas Kenderesi of Hungary.
Women's 200 IM
Katinka Hosszu added another win to her repertoire as she won the 200 IM from start to finish at 2:05.29. Australia's Emily Seebohm finished in second at 2:07.54 as she could not make a dent throughout the race on Hosszu. Femke Heemskerk picked up another medal as she was third at 2:09.79.
Men's 400 Free
In a wire-to-wire race from start to finish between the top four swimmers, Italy's Gabriele Detti won the 400 free final with a 3:43.11 on Saturday night at the Hong Kong World Cup. Detti held off strong swims from Poland's Wojciech Wojdak (3:43.23) and China Qiu Ziao (3:43.87). Poland's Filip Zaborowski finished just out of the medals at 3:43.89.
Women's 50 Free
Sarah Sjostrom picked up another win in the 50 free final with a 23.42 for the win. She had a sizeable win ahead of world record holder Ranomi Kromowidjojo who finished in second at 24.12. Longtime Dutch teammate Femke Heemskerk finished in third at 24.56 as those three were well ahead of the rest of the field.
Men's 200 Breast
Russia's Kirill Prigoda won the 200 breast final from start to finish with a 2:04.02 as he strengthened his lead throughout. Belarus' Ilya Shymanovich finished second at 2:05.02 and Arno Kamminga of the Netherlands finished third at 2:05.28.
Men's 100 IM
Russia's Vladimir Morozov spoiled the Hong Kong party as he beat Kenneth To in the 100 IM final. Morozov swam a 51.64 ahead of home favorite and top seed To who finished second at 52.22. USA's Tom Shields rounded out the podium with a 52.85 for his second medal of the meet.
Women's 200 Back
Katinka Hosszu continued to have her way with Australia's Emily Seebohm as Hosszu won the 200 back final ahead of the world champion with a 2:03.14 for her third win of the night. Seebohm finished in second at 2:05.90 well ahead of the rest of the field. Germany's Lisa Graf grabbed the bronze with a 2:09.51.
Men's 50 Fly
After losing the 200 fly final earlier, Chad Le Clos got a bit of revenge on Tom Shields as Le Clos got the upper hand in the 50 fly final with a 22.52. He was ahead of Shields' 22.99 as the latter was fresh out of the 100 IM final earlier. China's Zhang Qibin finished in third at 23.22.
Women's 800 Free
World Championship silver medalist Li Bingjie had a relatively easy win in Hong Kong with an 8:27.89 for the gold. She was well ahead of the rest of the field as Hong Kong got its third and fourth medals from Nam Wai Ho (8:41.57) and Katill Tang (8:43.01).
Men's 400 IM
Ayrton Sweeney of South Africa picked up the country's third gold medal of the day as he won the 400 IM with a 4:07.76. Sweeney used a strong back half to beat Russia's Danill Pasynkov who got the silver at 4:10.61. Hungary's David Foldhazi finished third at 4:16.80.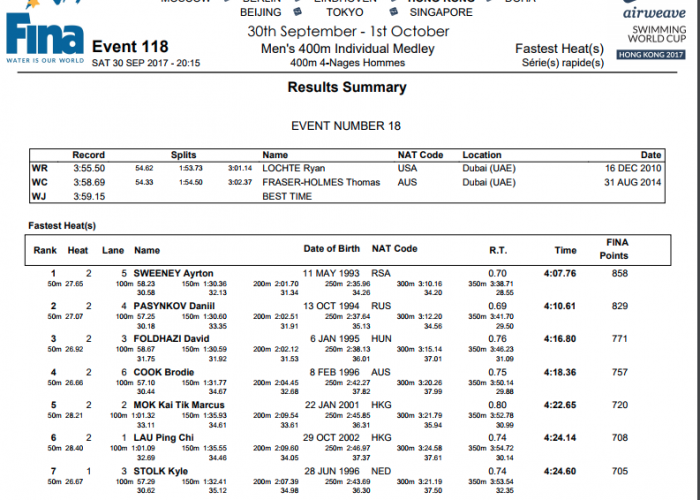 Mixed 4×50 Medley Relay
Six teams competed in the final for the mixed 200 medley relay. China took an early lead with their men-up-front strategy,  but could not hold off a charging Kromowidjojo and Thom De Boer of the Netherlands. The Chinese settled for the silver just in front of Hong Kong 1:41.17-1:42.42. Additionally, South Africa's Cameron van Der Burgh split a 26.28 breaststroke leg for his team and Germany's Damian Wierling anchored his team to a fourth-place finish with a 21.37.