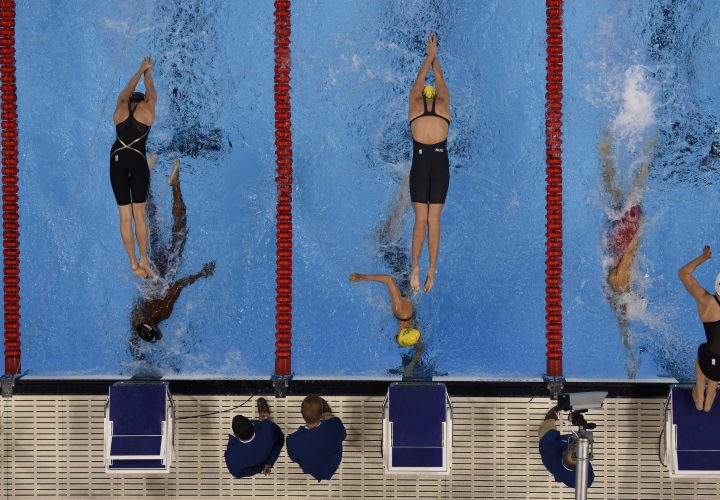 Photo Courtesy: USA TODAY Sports-USA TODAY Sports

Editorial Coverage Sponsored By FINIS
Everything you need to follow along live with day two prelims of the 2016 Rio Olympic Games. Competition begins at 1 p.m. local time (12 p.m. EST/9 a.m. PST) Hit refresh for all the latest coverage.
Heat sheets are available here.
Scheduled Events:
Women's 100m Backstroke
Men's 200m Freestyle
Women's 100m Breaststroke
Men's 100m Backstroke
Women's 400m Freestyle
Men's 400m Freestyle Relay
Women's 100 Backstroke
Kathleen Baker put together a stunning swim, under world record pace at the halfway mark. The 19 year old touched in 58.84. The American will return to semifinals in the top spot.
World Champion Emily Seebhom of Australia was also under 59 with a 58.99 for the second spot. Kylie Masse of Canada will have the third seed with a 59.07. Denmark's Mie Nielsen had a great second 50 meters and finished in 59.13 for fourth.
Iron Lady Katinka Hosszu of Hungary returned to the pool this morning as a newly minted Olympic gold medalist. She posted a 59.13.
Olivia Smoliga of the United States was the first swimmer of the morning under a minute. She touched in 59.60 and will return to semifinals in sixth. Great Britain's Georgia Davies stopped the clock in 59.86.
Australia's Maidson Wilson was also under the minute mark in the first circle seeded heat in 59.92, to take the eighth seed for semifinals.
Yuanhui Fu of China (1:00.02) finished just before Russia's Anastasiia Fesikova (1:00.04).
In her fifth Olympics Kirsty Coventry of Zimbabwe posted a 1:00.13 to secure a semifinal swim.
Matea Samardzic of Croatia (1:00.46), China's Xueer Wang (1:00.59), Spain's Duane Da Rocha Marce (1:00.87), and Iceland's Eyglo Gustafsdottir (1:00.89) will also swim again tonight.
Men's 200 Freestyle
Sun Yang of China rose to the top, after touching second in last night's 400 freestyle. This morning he clocked a 1:45.75 for the first seed in the 200 freestyle semifinals.
Germany's Paul Biedermann had a great last half and touched with the second fastest time of the morning in 1:45.78. Chad Le Clos of South Africa swam a gutsy opening 100, under world record pace at the 50 meter mark, and secured third in 1:45.89.
The United States' Conor Dwyer qualified fourth in 1:45.95. His teammate Townley Haas swam a 1:46.13 for fifth. Great Britain's James Guy tied Haas for that fifth spot.
Kosuke Hagino of Japan was back in the water with Olympic gold in hand. He'll head to semifinals seventh with a 1:46.19.
The Netherlands' Sebastiaan Verschuren posted a 1:46.32 for eighth and Australia's Thomas Fraser-Holmes swam a 1:46.49 for ninth.
Serbia's Velimir Stjepanovic (1:46.64), France's Jeremy Stravius (1:46.67), Dominik Kozma of Hungary (1:46.68), and South Africa's Devon Myles William Brown also secured semifinal spots.
Venezuela's Cristian Quintero (1:47.02), Poland's Kacper Majchrzak (1:47.12), and Russia's Aleksandr Krasnykh (1:47.15) took the last three spots in semifinals.
The reigning Olympic Champion Yannick Agnel only posted a 1:47.35 after fading at the end. He finished 19th and will not move onto the semifinals. 2012 silver medalist Park Tae Hwan will not advance either with a 29th place 1:48.06.
Women's 100 Breaststroke
Russia's Yulia Efimova won heat five of the women's 100 breaststroke in a 1:05.79. Her finish was greeted by jeers and boos from the crowd. In the very next heat the United States' Lilly King bettered that time by .01 with a 1:05.78 to claim the top seed.
Katie Meili won a tight heat four with a 1:06.00 and will return to semifinals in third. Defending champion Ruta Meilutyte placed fourth in 1:06.35 while China's Jinglin Shi swam a 1:06.55.
Denmark's Rikke Moller Pedersen posted a 1:06.58 for the sixth spot. Jamaica's Alia Atkinson clocked a 1:06.72, just .01 ahead of Australia's Taylor McKeown in 1:06.73.
Iceland's Hrafnhildur Luthersdottir (1:06.81) and Sweden's Jennie Johansson (1:06.84) will head to semifinals in ninth and tenth.
Canada's Rachel Nicol (1:06.85), Chloe Tutton of Great Britain (1:06.88), and Japan's Satomi Suzuki (1:06.99) also made semifinals.
Spain's Jessica Vall Montero (1:07.07), Turkey's Viktoria Zeynep Gunes (1:07.14), and Italy's Arianna Castiglioni (1:07.32) also secured second swims tonight.
Men's 100 Backstroke
France's Camille Lacourt had the fastest men's 100 backstroke this morning in 52.96. The top four swimmers all touched within a tenth of each other.
China's Jiayu Xu posted the second best time of the morning with a 53.01. Just .03 behind him was Mitch Larkin of Australis in 53.04. Another .02 behind the world champion was Ryan Murphy in 53.06. His American teammate David Plummer posted a 53.19 for the fifth spot.
Russia's Evgeny Rylov touched in 53.25 for sixth. Australia's Joshua Beaver clocked a 53.47 and Japan's Ryosuke Irie will be eighth after swimming a 53.49.
Romania's Robert Glinta registered a ninth seeded 53.51.
Great Britain's Chris Walker-Hebborn (53.54), Russia's Grigory Tarasevich (53.65), South Africa's Christopher Patrick Reid (53.68), Brazil's Guilherme Guido (53.80), Ireland's Shane Ryan (53.85), Germany's Jan-Philip Glania (53.87), and New Zealand's Corey Main (53.99) will also compete in tonight's semifinals.
Women's 400 Freestyle
Katie Ledecky got out to a quick start in the final heat and dominated as usual. She'll head to finals in the top spot with her 3:58.71, a new Olympic record, and just shy of her own World Record.
Leah Smith of the US, Brittany Maclean of Canada and Jazz Carlin of Great Britain had a tight race through the halfway mark of heat three. Maclean lead the way in the third 100. Carlin charged home to take the heat in 4:02.83. She will head to finals seeded second. Smith's 4:03.39 will make her the third seed tonight, just .01 ahead of France's Coralie Balmy (4:03.40). Smith touched just .04 ahead of Maclean (4:03.43) who will be seeded fifth tonight.
Australian national record holder Jessica Ashwood posted a 4:03.58 to return to tonight's finals in sixth.
Hungary's Boglarka Kapas swam a 4:04.11 to take seventh and Australia's Tamsin Cook secured the last spot with a 4:04.36.
Men's 400 Freestyle Relay
The Russian team of Andrey Grechin (48.58), Aleksandr Popkov (48.18), Danila Izotov (47.65), and Alexander Sukhorukov (47.63) won the first heat of the men's 400 freestyle relay in 3:12.04 to take the top spot at finals.
Swimming in lane one, the United States' Jimmy Feigen (48.55), Ryan Held (47.79), Blake Pieroni (48.39), and Anthony Ervin (47.65) topped a competitive final heat to take the second seed into finals with a 3:12.38.
The Australian squad of James Magnussen (48.85), Kyle Chalmers (47.04), James Roberts (48.33), and Matthew Abood (48.43) finished in 3:12.65, just behind the Americans.
Those swims for the Americans and the Australians overcame some difficulty from last summer when neither team made the finals at World championships.
The French finished fourth with a 3:13.27. Canada finished with a 3:14.06. Brazil rode the energy from the home crowd and touched sixth in 3:14.06.
Belgium (3:14.16) and Japan (3:14.17) snuck into the final.