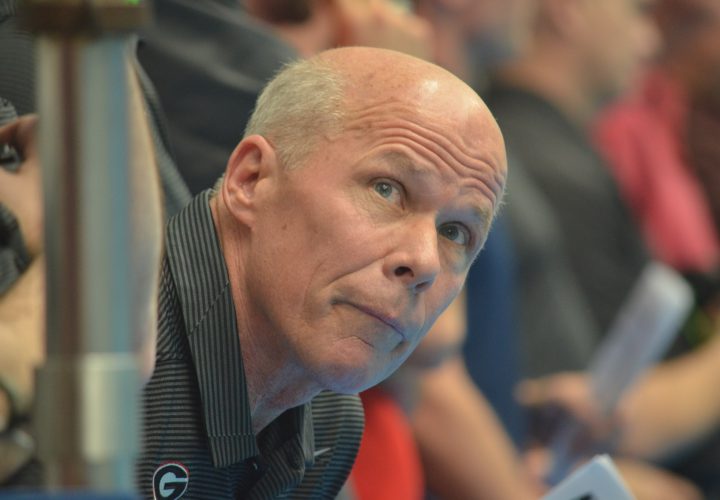 Photo Courtesy: Dan D'Addona
By Meaghan Raab, Swimming World College Intern. 
Jack Bauerle, head coach of the University of Georgia swim teams, is one of a kind. He cares about his swimmers as if they were his own kids. Bauerle constantly shows that he cares by asking how they are doing, how classes are going, and how their families are doing. Bauerle is more than just a coach. He has become a father figure for many people as they are going through college both academically and athletically. He is amazing at remembering names and time; he is like a walking encyclopedia. There is likely not a person who has met Bauerle who doesn't like him as a person. He is an avid sports fan, particularly Philadelphia sports, and loves to talk sports. He also enjoys playing tennis and surfing when he gets the chance.
You are originally from Pennsylvania, so why Athens? Why did you come here in the first place?
I'll tell you what, to say I had a great recruiting trip is a understatement. And I think a little bit of it was the recruiting trip I had beforehand sort of shook me to my feet. It was 1970 in the spring. I just had a good trip, enjoyed the people. I never thought I was going to come here in a million years; it was just another recruiting trip for me. I just had a good mix with all the people that were here. At one other school that I was very interested in we had a sort of unusual trip because it was during the Vietnam War protest time. And I was on a campus of a major school that I really liked an awful lot and I was in a position where something happened on campus: a rock was thrown through a library window. And next thing you know I'm one yard away from National Guards where they put a round of ammunition on them with the bayonet on and that sort of changed my feel for that school. Right or wrong that's just the way it was and I came down here.
I guess the biggest thing was as attached as I was and still am to where I was from, I love the Philadelphia area, and am avid pro fan and remain so, for me I thought to grow I needed to go somewhere else. I think the irony of it was I had other friends that swam, one went to Penn and one went to Ohio State, if we thought any one was going to stay, everyone thought it was probably going to be me because I just love being around.
For how much you love the Philly area, and the state itself, how cool it is for you to recruit athletes and get athletes out of Pennsylvania to continue the pipeline?
It's really neat, and you're part of it, big part of it. It's been an amazing thing that has happened. Courtney (Harnish) is here, Flick (Hali Flickinger) obviously, Stef (Williams), Kristy (Kowal), Lisa Geiger. Lisa was our first 4-time All American and she was from my town, Glenside. So it started back in the early 80s. She swam with Dick Shoulberg, who is my mentor, up at Germantown Academy. I remember watching her run around Glenside on her bike. In fact, she even made All-American with measles her senior year.
I always felt a lot of the kids up there in that area had an edge, a real competitive edge, and I don't know if it is I'm part partial to the area or what, I've always had a soft spot in my heart for PA kids. And also, they have all been exceptional students. Kristy was the NCAA Woman of the Year and NCAA Post-graduate scholarship winner. Flick was an NCAA post-graduate scholarship. It's pretty neat stuff. I don't know, it just sort of happened that way. I'm familiar with the area, so maybe that's part of it too.
Transitioning into coaching at Georgia…you have been around a long time.
I started coaching my fifth year. Here's the fortunate part, my fifth year finishing school. I wasn't really a grad assistant per say, but I was given full reign over the distance part of the program. I didn't know what I was doing. So I learned by trial and error and also by watching what I would call master coaches. I would go to a meet and talk with them, and watch them warm up kids. I mean I didn't know anything.
To be honest with you, I don't feel like I knew that much until the mid-2000s. I feel that I know much more about coaching now than I did five years ago. If anyone is in their 40s or early 50s and they think they got it, they'll be surprised. They will learn more and more, mostly by osmosis and paying attention.
What is your greatest memory from your years as a swimmer at Georgia?
I wasn't really that good. I was captain my junior and senior year, so that's a good memory. But I think the best memory was probably setting a few schools records. One of my best memories was my first meet because I set the school record in the 1000, which was a gigantic mistake because I was not a distance swimmer. Next thing you know, "there's our guy."
I have a lot of good memories from it. I had a great experience. Our team wasn't real successful but my coach took care of us. I think he watched out after me. I think he really was good to me and I think probably the thing that I take away from my experience was the fact that I had a good person taking care of me through thick and thin.
The best thing I took away from my experience was just a learning experience that sort of helped me as a coach. It meant a lot, he had me, he had my back so to speak, all the time. He entrusted me in my fifth year, and next thing I know I was coaching. I was the accidental coach. I wasn't doing anything else, I just did it because they asked. I didn't even ask. I was just finishing my English degree, that was my first priority. I was having fun with my degree and reading incessantly and all that stuff.
Do you wish that you had taken time between school and coaching to do something else?
No. I did one time for six months. I helped my father up in Philadelphia. He was an ultra successful manufacturers rep and I was miserable. It was awful because it was paying six times more than I was making as a coach. That might be arguable because six times nothing was nothing. My father sort of felt like I didn't really view this as a job. That was the only time, and then I realized that I felt like coaching for sure.
I think that happened when I was 25 and I took a short time. Outside of that, it was all coaching. I just enjoyed it, to be honest with you, I had no designs that this was a career or not. I just was doing it and next thing I know I got thrust into it. I have the letter that was written by our women's athletic director to Coach Dooley that said "we have a young man here". It was funny because she said "my fear is that it might take 10 or $12,000" which is sort of funny because it only took 8. I got hired for $8,000 in 1979. The smartest thing I did after I got hired was that very summer was I went up to work with Dick Shoulberg because I knew I didn't know a darn thing.
My counterparts, my biggest learning curves come from the company I keep and have been very fortunate. Jon Urbanchek took me under his wing in the late 90s. I just love being around Jon, I still do. Frank Busch and I and Eddie (Reese), we're as thick of thieves. They're great sounding boards. Chris Davis over at SwimAtlanta too. I think you just get around people who know a lot about your sport, but also know a lot or as much about people. All of those coaches were great with people.
What would you say is the most noteworthy change you've seen in the sport?
Well, obviously the strokes have changed dramatically. Probably not so obvious to the younger swimmers because they've come up and breaststroke looks nothing like it did. Backstroke looks nothing like it did. Freestyle even too. The biggest noteworthy change is more of the distinction on doing race-pace work than just yardage yardage yardage.
Back in the 70s and even early 80s swimming was very yardage based. I think the biggest thing I learned was that every swimmer is different even though they swim the same thing. You can have them in different groups at different times. It's not like we don't move people around. Even though someone is a 200 person they may get to that spot successfully in a different way. I think the biggest thing is that we are a little bit more specialized. You could say that across any sport now, like baseball with the designated hitter.
What is something that you wish swimmers knew before they got to campus?
I think the juggling act is going to be a little bit more difficult than they perceive. They see less classes and they think it is going to be easier and it is quite the contrary. Even my best students, it's just harder. You probably thought "I'm only taking three classes this day and two classes this day". There is more involved and the ante is higher because it's college and it's more important that you do well.
I guess just understanding that it is going to be a full commitment. Also I always wish they were better at relay starts. It's understandable, all the programs have a lots of kids and short time. But I think it's important for them to walk in knowing that they have so many things that they could take advantage of, our nutritionist, our academic advisor, our trainer. There is a lot there to use and they need to use it.
What are some of the biggest challenges of coaching?
Assimilating individual goals in with the team goals. That's the biggest one. But we have a good history which is good evidence because of the banners. Even our guys have been really good teams, and they have always come together at the right time. That's the biggest challenge because it is an individual sport but also at the college level it is an absolute team sport.
I think it is important for the kids to always realize that they will benefit by being a great team person too. It helps their performance. I believe in positive positive positive. If you get positive feedback and are positive in yourself, you give and take positive things, it is just going to enhance your experience and keep you a happier swimmer. That's probably the biggest challenge. And the biggest challenge for them is just juggling the schoolwork. A lot of times we have different practices at different times. The kids' academic challenges get greater as they go, not less. I think any time a coach can get individual time with an athlete it is really important.
What advice would you give to the younger coaches out there?
First of all, you are going to learn form your best athletes all the time. It sounds like a cliché but you really do. I think that you learn a little bit from them. Make sure you have your athletes' best interest in mind all the time and realize along the way that there will be a pitfall or two. No great career is without a great disappointment. Even when I recruit I always say that a very important thing about picking a place is that it's good when everything is good, and even if it's not going well is this where you want to be?
Make sure you keep your family first, and that is really hard because the way we are wired, we put our athletes first all the time. I think putting family first is really important. It's a real challenge, with your own children. More than anything, you have to make time. I think I could have done a better job of that than I did. But it opened up some fun trips for my boys. They have been to China, to London. They have seen some places they wouldn't have seen otherwise. That part is good.
You have to prioritize and that's hard because swimming becomes who you are and what you are. I think it is important to have many friends outside of what you do. There's an interesting world going on out here and it is not all the swimming world.
If you could do anything else in the entire world, that was not related to swimming, what would you do?
I would love to be a sports broadcaster. I would love it. That was one thing when I did take a test for aptitude that I might be good at, that was one of the things. I would like to be great at either art or music. I think it would be fun. I love them both. I'm sort of an art history nut too. It would have been fun to be a rock-n-roller too.
But nonetheless I think sports broadcasting would be something that I would have a really strong affinity for. I was on yesterday, I just do small little tidbits here because I just call in. I have done hour shows before and didn't really talk about swimming. Usually when I call in here, probably about once or twice a week, they will always introduce me as swim coach but we don't talk swimming. To be good at art or be good at music because both of them you can continue get better at because it is more mental than physical. It is really neat, I just saw the Stones last year and those guys just keeping getting better. As opposed to an athlete because once you hit this, you are on the downside. They just keep getting more talented or adept.
Is there something out there that you haven't done that you want to do?
People my age always feel like we grew up in one of the best times imaginable because we had everything: the idyllic late 50s and early 60s, the tumultuous late 60s and early 70s, great music, the rock-n-roll from the 60s. My regret is that I wish I had been born now because of the technology that people have doing things like jumping off a mountain with skis and just dropping 40 feet or surfing 60 foot waves. None of that was in our imagination.
I think now that just being able to do some of these physical things that you're able to do that we never could think of because the technology wasn't there either. I'm very jealous of what they're capable of. It looks like so much fun. I wish I could play a mean rock guitar. In the next few years I want to learn how to play the guitar well.
What kind of legacy do you hope you are leaving on the world of swimming in general, but also at Georgia?
Never really think about it. You just wish you were a good coach at the time you needed to be. If there is any legacy that any coach would like to have, I'm speaking for all those, the fact that you really helped someone achieve what they wanted to achieve. That is the satisfaction of coaching. What a gift to be given to help someone achieve the things they want. To me that is the ultimate gift that we are given and the gift you get when you see someone reach everything they wanted to reach in their sport.
I guess I'd like to be known as someone who helped people achieve their goals and their dreams. I only have one quote that I live by, "Nothing happens unless first we dream" – Carl Sandberg. I look back and I do realize that in any successful career, there were many people that had a hand in it. You just want to feel that you had a hand in helping someone do something really important to them. The wins and losses, the records, someone will always beat that, but they don't mean anything unless you are treating people well. To be known as a coach that treated my athletes well, and respected them as great people and not just great athletes.