WASHINGTON DC, September 14. ONE of the perks of being a U.S. Olympic athlete is that you get to meet some really important people… like the President of the United States, for example. Today, the London 2012 Olympians made their way to the White House to shake hands with President Barack Obama and First Lady Michelle Obama.
Fortunately for the rest of us mortals, we got to experience this in real time thanks to Social Media. This morning, swimmers blew up (in a good way) our Twitter feed with excited Tweets and TwitPics of themselves and teammates at the White House and around Washington DC.
I wonder if any of these photos were captured with the new iPhone5…
Allison Schmitt (@arschmitty) waiting to shake hands with President Obama, as Tweeted by teammate Charlie Houchin (@CharlieHouchin) Tweeted: "Ha ohhhh Schmitty"
Clark Burckle, Jr (@TheClarkB23) Tweeted: "Got to meet and listen to @barackobama today on the White House Lawn. Very powerful presence" and attached the following picture:
Michael Phelps (@MichaelPhelps) Tweeted: "Thank you to Mr. President @BarackObama for having us all at the #whitehouse today!!!"
While Jimmy Feigen (@JimmyFeigen) opted for a funnier photo of himself with security, Tweeting: "White House security is pretty intense!"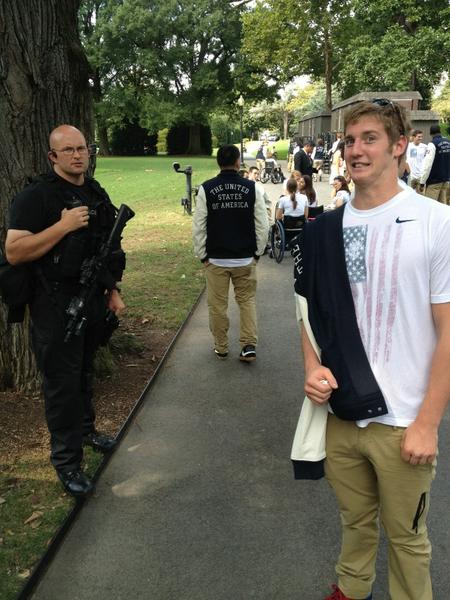 Ariana Kukors (@ArianaKukors) attached the following photo to the Tweet: "Just had the opportunity to hug the First Lady and shake the Presidents hand!"
Lia Neal (@LiaNeal) Tweeted: "Just got a hug from the PRESIDENT and FIRST LADY of the USofA!!!!!!!!!!! Best. day. of. my. life."
Shannon Vreeland (@s_vreeland) posted a picture of herself shaking hands with the president: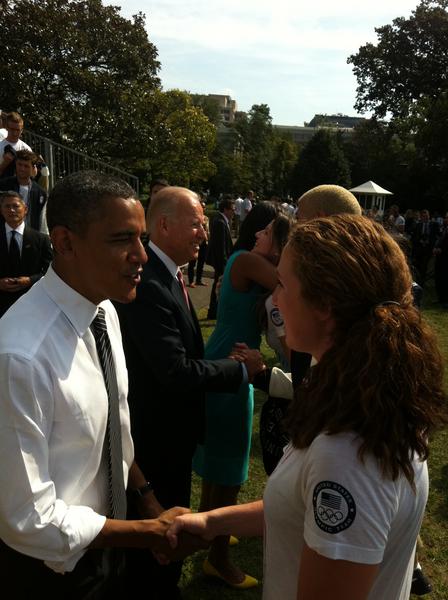 Before this morning ceremonies began, Jessica Hardy (@SwimHardy) Tweeted: "Swimmers take over the White House!"
We LOVE it!!
Thanks #TeamUSA for making us feel a part of the experience!
Also, check out the full list of Team USA swimmers, water polo and divers in attendance by clicking here.
Written and posted by Shoshanna Rutemiller
Contact the author of this story via e-mail at ShoshannaR@swimmingworld.com
Or Twitter @SJRutemiller